Kingfisher plc (KGF) Rating Reiterated by Beaufort Securities
Kingfisher plc (LON:KGF)'s stock had its "hold" rating reissued by research analysts at Beaufort Securities in a report issued on Wednesday.
KGF has been the subject of a number of other research reports. Haitong Bank reaffirmed a "sell" rating and set a GBX 290 ($3.79) price target on shares of Kingfisher plc in a research report on Wednesday, June 8th. Goldman Sachs Group Inc. reaffirmed a "buy" rating and set a GBX 435 ($5.68) price target on shares of Kingfisher plc in a research report on Wednesday, May 25th. Societe Generale raised Kingfisher plc to a "hold" rating and reduced their price target for the stock from GBX 359 ($4.69) to GBX 351 ($4.58) in a research report on Friday, August 5th. BNP Paribas downgraded Kingfisher plc to a "neutral" rating and set a GBX 410 ($5.35) price target for the company. in a research report on Friday, September 9th. Finally, Credit Suisse Group AG reissued an "outperform" rating and issued a GBX 430 ($5.61) price objective on shares of Kingfisher plc in a report on Tuesday. Ten analysts have rated the stock with a sell rating, eight have given a hold rating and four have assigned a buy rating to the company's stock. The stock currently has a consensus rating of "Hold" and an average price target of GBX 342.26 ($4.47).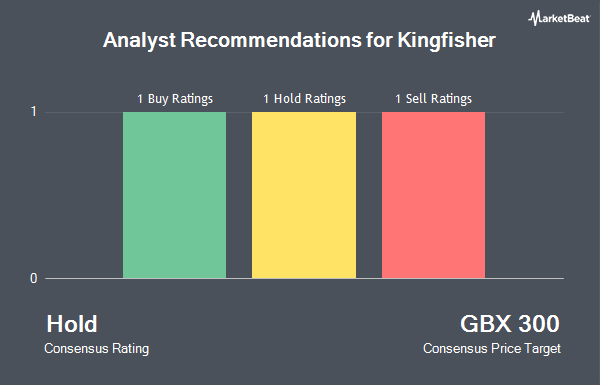 Kingfisher plc (LON:KGF) traded up 3.23% during trading on Wednesday, hitting GBX 380.70. 13,300,726 shares of the stock were exchanged. The stock's market cap is GBX 8.72 billion. Kingfisher plc has a 1-year low of GBX 300.10 and a 1-year high of GBX 387.00. The firm's 50 day moving average price is GBX 364.73 and its 200-day moving average price is GBX 356.22.
This story is the sole property of American Banking News and it was originally published by American Banking News. If you are reading this story on another website, that means this article was illegally copied and re-published to this website in violation of U.S. and International copyright law. The original version of this article is available at http://www.americanbankingnews.com/2016/09/21/kingfisher-plc-kgf-rating-reiterated-by-beaufort-securities.html
The firm also recently announced a dividend, which will be paid on Friday, November 11th. Shareholders of record on Thursday, October 6th will be issued a GBX 3.25 ($0.04) dividend. The ex-dividend date is Thursday, October 6th. This represents a yield of 0.88%.
In other Kingfisher plc news, insider Parekh,Rakhi bought 6,124 shares of the stock in a transaction on Monday, June 27th. The stock was acquired at an average cost of GBX 335 ($4.37) per share, for a total transaction of £20,515.40 ($26,779.01).
Kingfisher plc Company Profile
Kingfisher plc is engaged in the sale of home improvement products and services. The Company operates over 1,200 stores in 11 countries across Europe and China. The Company's segments include UK & Ireland, France and Other International. The Other International segment consists of the operations in Poland, China, Germany, Portugal, Romania, Russia and Spain, and of its joint venture with Koc Group, Koctas, a Turkey-based home improvement retailer.
Receive News & Ratings for Kingfisher plc Daily - Enter your email address below to receive a concise daily summary of the latest news and analysts' ratings for Kingfisher plc and related companies with MarketBeat.com's FREE daily email newsletter.