Diageo plc (DGE) Earns Hold Rating from Societe Generale
Diageo plc (LON:DGE)'s stock had its "hold" rating restated by analysts at Societe Generale in a research report issued on Wednesday. They currently have a GBX 2,308 ($30.13) price objective on the stock. Societe Generale's target price would indicate a potential upside of 5.82% from the stock's current price.
Several other equities research analysts also recently commented on DGE. Barclays PLC reaffirmed an "equal weight" rating and set a GBX 2,150 ($28.06) target price on shares of Diageo plc in a report on Wednesday. JPMorgan Chase & Co. reissued an "overweight" rating and issued a GBX 2,140 ($27.93) price objective on shares of Diageo plc in a research note on Friday, June 3rd. Beaufort Securities reissued a "buy" rating on shares of Diageo plc in a research note on Friday, July 29th. Jefferies Group reissued a "buy" rating and issued a GBX 2,500 ($32.63) price objective on shares of Diageo plc in a research note on Wednesday. Finally, BNP Paribas reissued an "outperform" rating and issued a GBX 2,300 ($30.02) price objective on shares of Diageo plc in a research note on Thursday, September 15th. Two analysts have rated the stock with a sell rating, ten have assigned a hold rating and fourteen have assigned a buy rating to the company. The company has an average rating of "Hold" and an average target price of GBX 2,157.38 ($28.16).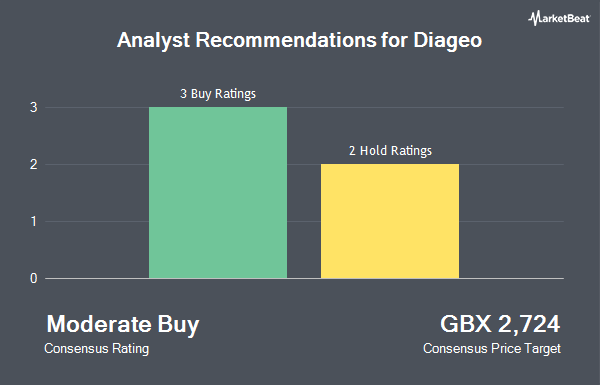 Diageo plc (LON:DGE) traded up 0.39% during trading on Wednesday, reaching GBX 2189.50. The company's stock had a trading volume of 2,390,326 shares. The firm's market capitalization is GBX 54.96 billion. The stock's 50-day moving average is GBX 2,142.20 and its 200 day moving average is GBX 1,982.63. Diageo plc has a 52-week low of GBX 1,705.00 and a 52-week high of GBX 2,218.00.
This story is the sole property of American Banking News and it was originally published by American Banking News. If you are reading this story on another website, that means this article was illegally copied and re-published to this website in violation of U.S. and International copyright law. The original version of this article is available at http://www.americanbankingnews.com/2016/09/21/societe-generale-reaffirms-hold-rating-for-diageo-plc-dge.html
The business also recently announced a dividend, which will be paid on Thursday, October 6th. Investors of record on Thursday, August 11th will be given a dividend of GBX 36.60 ($0.48) per share. This represents a dividend yield of 1.67%. The ex-dividend date of this dividend is Thursday, August 11th. This is an increase from Diageo plc's previous dividend of $22.60.
Diageo plc Company Profile
Diageo plc (Diageo) is a drinks business company. The Company is a provider of beverage alcohol of various brands in spirits, beer and wine. The Company produces its brands from more than 200 sites in over 30 countries. Diageo owns manufacturing production facilities across the globe, including maltings, distilleries, breweries, packaging plants, maturation warehouses, cooperages, vineyards, wineries and distribution warehouses.
Receive News & Ratings for Diageo plc Daily - Enter your email address below to receive a concise daily summary of the latest news and analysts' ratings for Diageo plc and related companies with MarketBeat.com's FREE daily email newsletter.