Informa Plc (INF) Given "Hold" Rating at Peel Hunt
Informa Plc (LON:INF)'s stock had its "hold" rating reissued by equities researchers at Peel Hunt in a research note issued on Thursday. They currently have a GBX 750 ($9.79) price target on the stock. Peel Hunt's price target would suggest a potential upside of 2.67% from the company's current price.
A number of other brokerages have also commented on INF. Shore Capital reiterated a "hold" rating on shares of Informa Plc in a report on Tuesday, July 26th. Panmure Gordon reiterated a "buy" rating and set a GBX 825 ($10.77) price target on shares of Informa Plc in a report on Tuesday, July 26th. Numis Securities Ltd reiterated an "under review" rating on shares of Informa Plc in a report on Thursday, July 28th. Canaccord Genuity reissued a "hold" rating and set a GBX 755 ($9.86) target price on shares of Informa Plc in a research note on Thursday, July 28th. Finally, Deutsche Bank AG lifted their target price on shares of Informa Plc from GBX 730 ($9.53) to GBX 770 ($10.05) and gave the stock a "buy" rating in a research note on Friday, July 15th. One analyst has rated the stock with a sell rating, eight have assigned a hold rating, eight have given a buy rating and one has assigned a strong buy rating to the company. Informa Plc presently has an average rating of "Buy" and an average target price of GBX 752.67 ($9.82).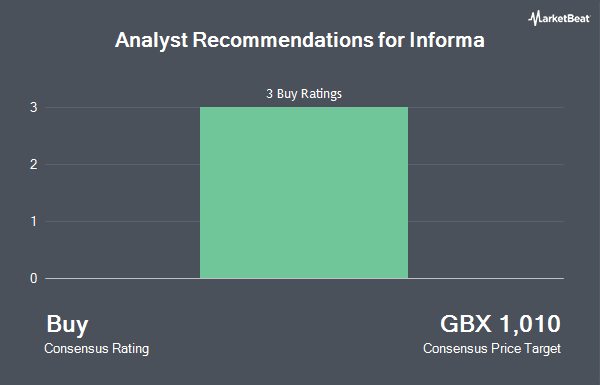 Shares of Informa Plc (LON:INF) opened at 731.50 on Thursday. The company's market cap is GBX 4.74 billion. The company has a 50 day moving average of GBX 713.21 and a 200-day moving average of GBX 695.46. Informa Plc has a 52-week low of GBX 545.50 and a 52-week high of GBX 762.00.
This story is the sole property of American Banking News and it was originally published by American Banking News. If you are reading this story on another website, that means this article was illegally copied and re-published to this website in violation of U.S. and International copyright law. The original version of this article is available at http://www.americanbankingnews.com/2016/09/22/informa-plc-inf-given-hold-rating-at-peel-hunt.html
The company also recently declared a dividend, which was paid on Friday, September 9th. Investors of record on Thursday, August 11th were issued a dividend of GBX 6.80 ($0.09) per share. This represents a yield of 0.93%. The ex-dividend date was Thursday, August 11th.
In other news, insider Flaschen,David purchased 1,000 shares of the business's stock in a transaction that occurred on Friday, September 16th. The shares were acquired at an average cost of GBX 957 ($12.49) per share, for a total transaction of £9,570 ($12,491.84).
About Informa Plc
Informa plc provides academics, businesses and individuals with knowledge, information and skills and services. It operates in three segments: academic information, which includes the Taylor & Francis publishing business, provides a portfolio of online and print publications, primarily for academic users across the spectrum of science, technology, humanities and social sciences; professional and commercial information, which include Datamonitor, Informa Business Information and Informa Financial Information provides information, across a range of formats and on a global basis, to a variety of sectors, including medical, pharmaceutical, maritime and telecoms, and events and training consists of trade shows and exhibitions, large and small conferences and training courses.
Receive News & Ratings for Informa Plc Daily - Enter your email address below to receive a concise daily summary of the latest news and analysts' ratings for Informa Plc and related companies with MarketBeat.com's FREE daily email newsletter.