Analysts Set Expectations for BSM Technologies Inc's FY2017 Earnings (GPS)
BSM Technologies Inc (TSE:GPS) – Equities research analysts at Beacon Securities boosted their FY2017 EPS estimates for BSM Technologies in a research note issued on Wednesday. Beacon Securities analyst G. Leung now expects that the brokerage will post earnings per share of $0.03 for the year, up from their prior estimate of $0.02.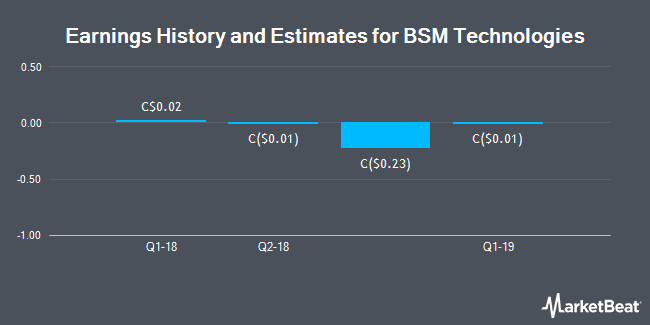 Other equities research analysts also recently issued research reports about the company. Paradigm Capital boosted their price target on BSM Technologies from C$1.60 to C$1.90 and gave the company a "buy" rating in a research report on Wednesday. Canaccord Genuity boosted their price objective on BSM Technologies from C$1.75 to C$2.00 and gave the stock a "buy" rating in a research note on Wednesday.
BSM Technologies (TSE:GPS) traded up 1.44% on Friday, reaching $1.41. The company had a trading volume of 489,322 shares. The stock has a 50 day moving average of $1.18 and a 200 day moving average of $1.10. The firm's market capitalization is $117.35 million. BSM Technologies has a 12 month low of $0.78 and a 12 month high of $1.45.
This story is the sole property of American Banking News and it was originally published by American Banking News. If you are reading this story on another website, that means this article was illegally copied and re-published to this website in violation of U.S. and International copyright law. The original version of this article is available at http://www.americanbankingnews.com/2016/10/07/analysts-set-expectations-for-bsm-technologies-incs-fy2017-earnings-gps.html
BSM Technologies Company Profile
BSM Technologies Inc (BSM) is a Canada-based company engaged in the development and provision of hardware and software solutions. The Company's software and hardware solutions provide a link between its customers' operations and the systems they use to run their business. Its solutions are capable of being deployed over cellular, wireless fidelity (Wi-Fi) or satellite networks.
Receive News & Ratings for BSM Technologies Inc Daily - Enter your email address below to receive a concise daily summary of the latest news and analysts' ratings for BSM Technologies Inc and related companies with MarketBeat.com's FREE daily email newsletter.