Pengrowth Energy Corp (PGF) PT Raised to C$2.40 at Canaccord Genuity
Pengrowth Energy Corp (TSE:PGF) had its price target boosted by Canaccord Genuity from C$2.15 to C$2.40 in a research report issued on Friday, StockTargetPrices.com reports. The brokerage currently has a "hold" rating on the stock. Canaccord Genuity's price target indicates a potential upside of 7.62% from the company's previous close.
PGF has been the subject of a number of other research reports. Desjardins set a C$2.00 target price on Pengrowth Energy Corp in a research note on Tuesday, June 28th. CIBC assumed coverage on Pengrowth Energy Corp in a research note on Wednesday, June 15th. They issued an "underperform" rating and a C$1.85 target price for the company. TD Securities reaffirmed a "reduce" rating and set a C$1.05 price target on shares of Pengrowth Energy Corp in a research report on Friday, August 5th. Barclays PLC downgraded Pengrowth Energy Corp from an "equal weight" rating to an "underweight" rating in a research report on Friday, July 22nd. Finally, RBC Capital Markets increased their price target on Pengrowth Energy Corp from C$1.25 to C$1.50 in a research report on Wednesday, September 28th. Four research analysts have rated the stock with a sell rating and four have given a hold rating to the company. The stock has a consensus rating of "Hold" and a consensus target price of C$1.86.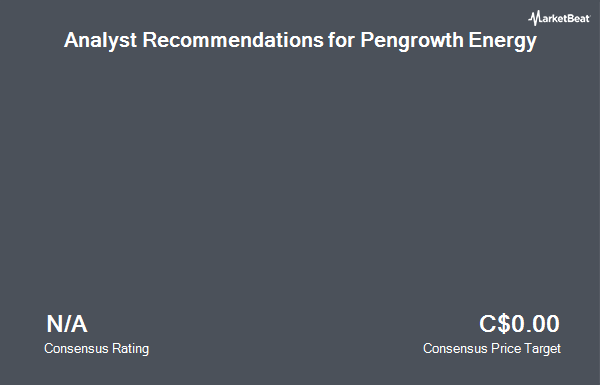 Shares of Pengrowth Energy Corp (TSE:PGF) traded up 0.45% during trading on Friday, hitting $2.24. The stock had a trading volume of 1,152,080 shares. The firm's market cap is $1.23 billion. The firm has a 50 day moving average price of $2.02 and a 200 day moving average price of $2.04. Pengrowth Energy Corp has a 12-month low of $0.66 and a 12-month high of $2.70.
This story is the sole property of American Banking News and it was originally published by American Banking News. If you are reading this story on another website, that means this article was illegally copied and re-published to this website in violation of U.S. and International copyright law. The original version of this article is available at https://www.americanbankingnews.com/2016/10/07/pengrowth-energy-corp-pgf-pt-raised-to-c2-40-at-canaccord-genuity.html
About Pengrowth Energy Corp

Receive News & Ratings for Pengrowth Energy Corp Daily - Enter your email address below to receive a concise daily summary of the latest news and analysts' ratings for Pengrowth Energy Corp and related companies with MarketBeat.com's FREE daily email newsletter.