Aehr Test Systems (AEHR) Insider Gayn Erickson Sells 10,000 Shares
Aehr Test Systems (NASDAQ:AEHR) insider Gayn Erickson sold 10,000 shares of the business's stock in a transaction on Friday, October 7th. The shares were sold at an average price of $2.82, for a total transaction of $28,200.00. Following the transaction, the insider now owns 347,694 shares of the company's stock, valued at $980,497.08. The transaction was disclosed in a legal filing with the Securities & Exchange Commission, which is available through the SEC website.
Aehr Test Systems (NASDAQ:AEHR) opened at 2.67 on Friday. The company's 50-day moving average is $2.48 and its 200-day moving average is $1.75. The firm's market capitalization is $35.56 million. Aehr Test Systems has a 52-week low of $0.95 and a 52-week high of $3.42.
Aehr Test Systems (NASDAQ:AEHR) last announced its quarterly earnings data on Thursday, September 29th. The company reported ($0.04) EPS for the quarter. Aehr Test Systems had a negative net margin of 59.41% and a negative return on equity of 387.82%. The firm earned $5.30 million during the quarter.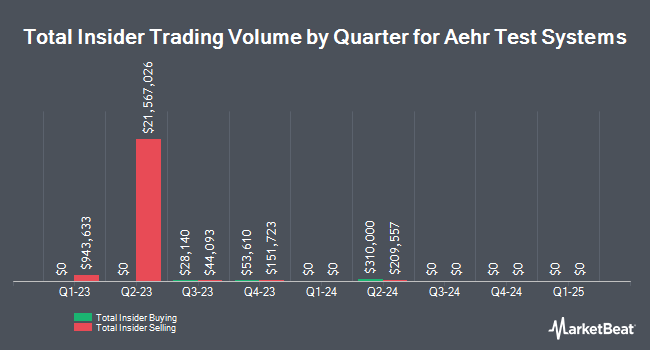 This story is the sole property of American Banking News and it was originally published by American Banking News. If you are reading this story on another website, that means this article was illegally copied and re-published to this website in violation of U.S. and International copyright law. The original version of this article is available at http://www.americanbankingnews.com/2016/10/08/aehr-test-systems-aehr-insider-gayn-erickson-sells-10000-shares.html
Aehr Test Systems Company Profile
Aehr Test Systems is a provider of burn-in equipment. The Company manufactures and markets full wafer contact test systems, test during burn-in systems, test fixtures, die carriers and related accessories. The Company's principal products are the Advanced Burn-In and Test System (ABTS), the FOX full wafer contact parallel test and burn-in systems, the MAX burn-in system, WaferPak full wafer contactor, the DiePak carrier and test fixtures.
Receive News & Ratings for Aehr Test Systems Daily - Enter your email address below to receive a concise daily summary of the latest news and analysts' ratings for Aehr Test Systems and related companies with MarketBeat.com's FREE daily email newsletter.