Burberry Group plc (BRBY) Rating Reiterated by JPMorgan Chase & Co.
Burberry Group plc (LON:BRBY)'s stock had its "neutral" rating reissued by investment analysts at JPMorgan Chase & Co. in a report released on Wednesday. They currently have a GBX 1,450 ($18.93) price objective on the stock. JPMorgan Chase & Co.'s price objective indicates a potential downside of 0.96% from the stock's previous close.
A number of other research firms have also recently issued reports on BRBY. BNP Paribas reaffirmed a "neutral" rating and issued a GBX 1,460 ($19.06) price target on shares of Burberry Group plc in a report on Wednesday. Goldman Sachs Group Inc. lifted their price target on Burberry Group plc from GBX 1,310 ($17.10) to GBX 1,480 ($19.32) and gave the company a "neutral" rating in a report on Tuesday, September 27th. Barclays PLC boosted their price objective on Burberry Group plc from GBX 1,320 ($17.23) to GBX 1,350 ($17.62) and gave the stock an "equal weight" rating in a report on Tuesday. Credit Suisse Group AG reissued an "underperform" rating and set a GBX 1,150 ($15.01) price objective on shares of Burberry Group plc in a report on Wednesday, September 21st. Finally, Royal Bank Of Canada raised Burberry Group plc to a "sector performer" rating and boosted their price objective for the stock from GBX 1,200 ($15.66) to GBX 1,400 ($18.27) in a report on Friday, September 30th. Three investment analysts have rated the stock with a sell rating, nineteen have issued a hold rating and three have issued a buy rating to the stock. The stock has an average rating of "Hold" and an average price target of GBX 1,357.27 ($17.72).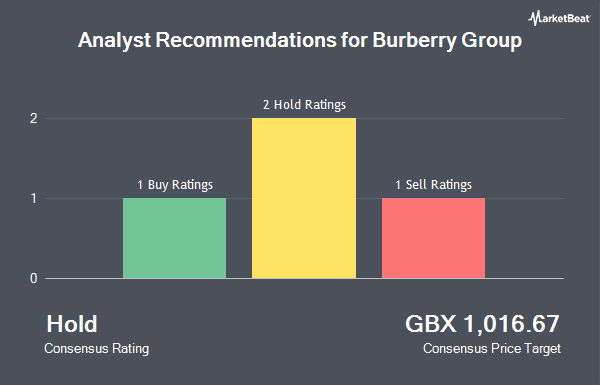 Burberry Group plc (LON:BRBY) traded up 2.74% during mid-day trading on Wednesday, hitting GBX 1464.00. 5,944,997 shares of the company traded hands. Burberry Group plc has a one year low of GBX 1,039.00 and a one year high of GBX 1,512.00. The company's market capitalization is GBX 6.47 billion. The company's 50-day moving average price is GBX 1,345.38 and its 200 day moving average price is GBX 1,248.15.
This story is the sole property of American Banking News and it was originally published by American Banking News. If you are reading this story on another website, that means this article was illegally copied and re-published to this website in violation of U.S. and International copyright law. The original version of this article is available at https://www.americanbankingnews.com/2016/10/08/burberry-group-plc-brby-rating-reiterated-by-jpmorgan-chase-co.html
In related news, insider Bailey,Christopher sold 18,750 shares of the stock in a transaction on Wednesday, August 24th. The stock was sold at an average price of GBX 1,352 ($17.65), for a total value of £253,500 ($330,896.75).
About Burberry Group plc
Burberry Group PLC is a United Kingdom-based manufacturer, wholesaler and retailer of luxury goods. The Company designs, produces and sells products under the Burberry brand. The Company's product categories include women's and men's apparel and accessories and beauty. The Company owns distribution network consisting of: 497 directly operated stores and concessions, offline and burberry.com, a digital platform active in 11 languages, online.
Receive News & Ratings for Burberry Group plc Daily - Enter your email address below to receive a concise daily summary of the latest news and analysts' ratings for Burberry Group plc and related companies with MarketBeat.com's FREE daily email newsletter.