AstraZeneca plc (AZN) Price Target Lowered to GBX 5,220 at Bryan, Garnier & Co
AstraZeneca plc (LON:AZN) had its price objective decreased by Bryan, Garnier & Co from GBX 5,400 ($70.49) to GBX 5,220 ($68.14) in a research report issued to clients and investors on Tuesday. The firm currently has a "buy" rating on the biopharmaceutical company's stock. Bryan, Garnier & Co's target price suggests a potential upside of 2.63% from the stock's current price.
Several other equities analysts have also issued reports on AZN. Jefferies Group lifted their target price on AstraZeneca plc from GBX 3,900 ($50.91) to GBX 4,100 ($53.52) and gave the company a "hold" rating in a research note on Tuesday, June 14th. BNP Paribas downgraded AstraZeneca plc to a "neutral" rating and set a GBX 5,200 ($67.88) price target for the company. in a report on Wednesday, September 14th. HSBC reissued a "hold" rating and issued a GBX 4,700 ($61.35) price target on shares of AstraZeneca plc in a report on Thursday, August 11th. Beaufort Securities reissued a "hold" rating on shares of AstraZeneca plc in a report on Wednesday, August 10th. Finally, Societe Generale set a GBX 7,000 ($91.37) price target on AstraZeneca plc and gave the stock a "buy" rating in a report on Thursday, September 8th. Five investment analysts have rated the stock with a sell rating, fourteen have given a hold rating, ten have assigned a buy rating and one has issued a strong buy rating to the stock. The stock has an average rating of "Hold" and an average price target of GBX 4,937.91 ($64.46).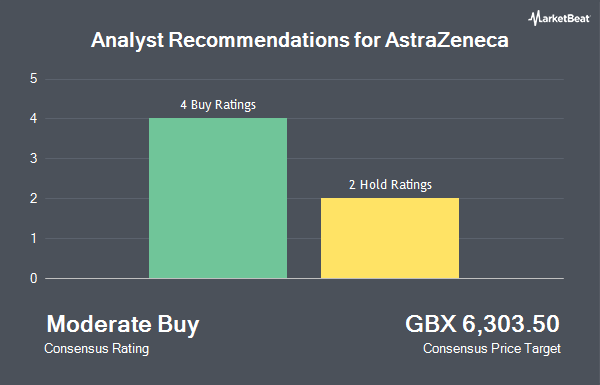 AstraZeneca plc (LON:AZN) traded up 1.19% during midday trading on Tuesday, reaching GBX 5086.00. 3,384,720 shares of the company traded hands. The stock's market capitalization is GBX 64.34 billion. The firm has a 50-day moving average of GBX 5,005.11 and a 200-day moving average of GBX 4,435.88. AstraZeneca plc has a 1-year low of GBX 3,680.00 and a 1-year high of GBX 5,505.00.
This story is the sole property of American Banking News and it was originally published by American Banking News. If you are reading this story on another website, that means this article was illegally copied and re-published to this website in violation of U.S. and International copyright law. The original version of this article is available at http://www.americanbankingnews.com/2016/10/09/astrazeneca-plc-azn-price-target-lowered-to-gbx-5220-at-bryan-garnier-co.html
The firm also recently declared a dividend, which was paid on Monday, September 12th. Stockholders of record on Thursday, August 11th were paid a GBX 68.70 ($0.90) dividend. This represents a dividend yield of 1.37%. The ex-dividend date was Thursday, August 11th.
AstraZeneca plc Company Profile
AstraZeneca PLC (AstraZeneca) is a biopharmaceutical company. The Company focuses on the discovery, development and commercialization of prescription medicines, primarily for the treatment of diseases in various therapy areas, including respiratory, inflammation, autoimmune disease (RIA), cardiovascular and metabolic disease (CVMD) and oncology, as well as in infection, neuroscience and gastrointestinal areas.
Receive News & Ratings for AstraZeneca plc Daily - Enter your email address below to receive a concise daily summary of the latest news and analysts' ratings for AstraZeneca plc and related companies with MarketBeat.com's FREE daily email newsletter.