Derwent London Plc (DLN) Receives Hold Rating from Liberum Capital
Derwent London Plc (LON:DLN)'s stock had its "hold" rating reissued by equities researchers at Liberum Capital in a report issued on Tuesday. They currently have a GBX 2,500 ($32.63) target price on the real estate investment trust's stock. Liberum Capital's price target would suggest a potential upside of 1.38% from the company's current price.
A number of other equities research analysts also recently commented on the company. BNP Paribas reaffirmed a "neutral" rating and set a GBX 3,430 ($44.77) target price on shares of Derwent London Plc in a report on Monday, June 20th. Credit Suisse Group AG boosted their price target on Derwent London Plc from GBX 3,010 ($39.29) to GBX 3,195 ($41.70) and gave the company an "underperform" rating in a report on Friday, June 17th. Peel Hunt reissued a "hold" rating and issued a GBX 2,900 ($37.85) price target on shares of Derwent London Plc in a report on Thursday, August 11th. Numis Securities Ltd reissued a "buy" rating and issued a GBX 3,850 ($50.25) price target on shares of Derwent London Plc in a report on Thursday, August 11th. Finally, JPMorgan Chase & Co. downgraded Derwent London Plc to a "neutral" rating and decreased their price target for the company from GBX 4,150 ($54.17) to GBX 3,200 ($41.77) in a report on Tuesday, September 6th. Four investment analysts have rated the stock with a sell rating, eleven have assigned a hold rating and three have issued a buy rating to the stock. Derwent London Plc has an average rating of "Hold" and an average price target of GBX 3,002.41 ($39.19).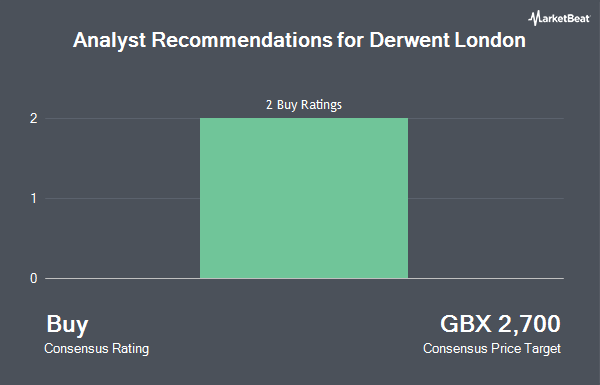 Shares of Derwent London Plc (LON:DLN) traded down 1.40% during midday trading on Tuesday, reaching GBX 2466.00. 450,545 shares of the company's stock were exchanged. Derwent London Plc has a one year low of GBX 2,230.00 and a one year high of GBX 3,891.00. The stock's market cap is GBX 2.74 billion. The company's 50-day moving average is GBX 2,649.89 and its 200-day moving average is GBX 2,948.33.
This story is the sole property of American Banking News and it was originally published by American Banking News. If you are reading this story on another website, that means this article was illegally copied and re-published to this website in violation of U.S. and International copyright law. The original version of this article is available at https://www.americanbankingnews.com/2016/10/09/derwent-london-plc-dln-receives-hold-rating-from-liberum-capital.html
The business also recently announced a dividend, which will be paid on Friday, October 21st. Shareholders of record on Thursday, September 15th will be issued a GBX 13.86 ($0.18) dividend. This represents a yield of 0.51%. The ex-dividend date of this dividend is Thursday, September 15th.
About Derwent London Plc
Derwent London plc is a United Kingdom-based real estate investment trust (REIT) operating in central London region. The Company owns and manages a portfolio of approximately 6.2 million square feet located in over 15 villages in London's West End and City borders and focus on middle market rents. The Company's property portfolio includes investment property, owner-occupied property and trading property.
Receive News & Ratings for Derwent London Plc Daily - Enter your email address below to receive a concise daily summary of the latest news and analysts' ratings for Derwent London Plc and related companies with MarketBeat.com's FREE daily email newsletter.