Zargon Oil and Gas Ltd (ZAR) Insider Sells C$30,127.95 in Stock
Zargon Oil and Gas Ltd (TSE:ZAR) insider Leslie Edward Burden sold 37,195 shares of the company's stock in a transaction on Tuesday, October 4th. The shares were sold at an average price of C$0.81, for a total transaction of C$30,127.95.
Zargon Oil and Gas Ltd (TSE:ZAR) opened at 0.81 on Friday. Zargon Oil and Gas Ltd has a one year low of $0.34 and a one year high of $1.73. The firm's market cap is $24.68 million. The stock's 50 day moving average is $0.88 and its 200 day moving average is $0.65.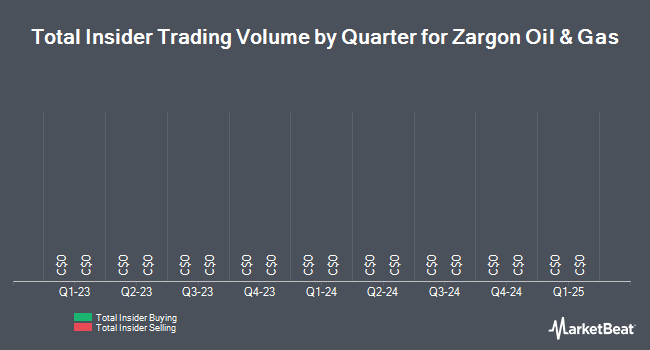 A number of brokerages have commented on ZAR. TD Securities reaffirmed a "hold" rating and set a C$0.70 price target on shares of Zargon Oil and Gas in a research report on Thursday, August 11th. FirstEnergy Capital upgraded shares of Zargon Oil and Gas from an "underperform" rating to a "market perform" rating in a report on Thursday, June 23rd.
This story is the sole property of American Banking News and it was originally published by American Banking News. If you are reading this story on another website, that means this article was illegally copied and re-published to this website in violation of U.S. and International copyright law. The original version of this article is available at https://www.americanbankingnews.com/2016/10/09/zargon-oil-and-gas-ltd-zar-insider-sells-c30127-95-in-stock.html
Zargon Oil and Gas Company Profile
Zargon Oil & Gas Ltd. is a Canada-based company, which is engaged in the business of oil and natural gas exploration, exploitation, development, acquisition and production in Canada and the United States. The Company's reserves are in Canada in the provinces of Alberta and Saskatchewan, and in the United States in North Dakota.
Receive News & Ratings for Zargon Oil and Gas Ltd Daily - Enter your email address below to receive a concise daily summary of the latest news and analysts' ratings for Zargon Oil and Gas Ltd and related companies with MarketBeat.com's FREE daily email newsletter.