Cobham plc (COB) PT Raised to GBX 185
Cobham plc (LON:COB) had its target price increased by investment analysts at JPMorgan Chase & Co. from GBX 165 ($2.04) to GBX 185 ($2.29) in a research report issued on Monday. The firm presently has a "neutral" rating on the stock. JPMorgan Chase & Co.'s price target points to a potential upside of 8.44% from the stock's previous close.
Several other analysts also recently issued reports on the company. Goldman Sachs Group Inc. restated a "neutral" rating and issued a GBX 151.26 ($1.87) price objective on shares of Cobham plc in a report on Monday, June 27th. Morgan Stanley started coverage on Cobham plc in a report on Tuesday, September 27th. They set an "equal weight" rating and a GBX 170 ($2.10) price target for the company. BNP Paribas reduced their price target on Cobham plc from GBX 186 ($2.30) to GBX 140 ($1.73) and set a "neutral" rating for the company in a report on Tuesday, June 21st. Deutsche Bank AG reiterated a "hold" rating and set a GBX 154 ($1.91) price target (up previously from GBX 152 ($1.88)) on shares of Cobham plc in a report on Friday, June 24th. Finally, Berenberg Bank reduced their price target on Cobham plc from GBX 170 ($2.10) to GBX 160 ($1.98) and set a "sell" rating for the company in a report on Tuesday, August 16th. Three equities research analysts have rated the stock with a sell rating, ten have given a hold rating and four have issued a buy rating to the stock. Cobham plc presently has an average rating of "Hold" and a consensus price target of GBX 193.88 ($2.40).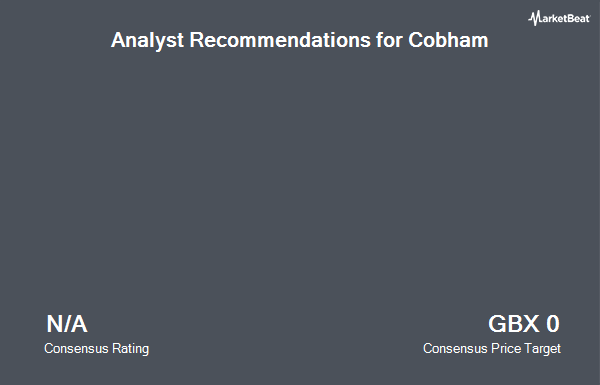 Cobham plc (LON:COB) traded down 0.76% during mid-day trading on Monday, hitting GBX 170.60. The stock had a trading volume of 6,392,761 shares. The company's market capitalization is GBX 2.31 billion. Cobham plc has a 52 week low of GBX 124.32 and a 52 week high of GBX 261.14. The stock's 50-day moving average is GBX 167.50 and its 200 day moving average is GBX 159.28.
This story is the sole property of American Banking News and it was originally published by American Banking News. If you are reading this story on another website, that means this article was illegally copied and re-published to this website in violation of U.S. and International copyright law. The original version of this article is available at http://www.americanbankingnews.com/2016/10/10/cobham-plc-cob-pt-raised-to-gbx-185.html
The business also recently disclosed a dividend, which will be paid on Friday, November 4th. Stockholders of record on Thursday, October 6th will be given a dividend of GBX 2.03 ($0.03) per share. The ex-dividend date of this dividend is Thursday, October 6th. This represents a dividend yield of 1.22%.
In related news, insider Nicholls,Simon sold 16,557 shares of the company's stock in a transaction dated Monday, August 8th. The shares were sold at an average price of GBX 164 ($2.03), for a total value of £27,153.48 ($33,605.79).
Cobham plc Company Profile
Cobham plc is a United Kingdom-based company, which offers a range of technologies and services. The Company operates in four segments: Communications and Connectivity, Mission Systems, Advanced Electronic Solutions and Aviation Services. Its Communications and Connectivity segment provides aircraft and in-building communication equipment; satellite communication equipment for land, sea and air applications, and test and measurement instrumentation for radio frequency, cellular communications and wireless networking.
Receive News & Ratings for Cobham plc Daily - Enter your email address below to receive a concise daily summary of the latest news and analysts' ratings for Cobham plc and related companies with MarketBeat.com's FREE daily email newsletter.