Deutsche Post AG (DPSGY) Receives "Buy" Rating from Citigroup Inc.
Deutsche Post AG (OTCMKTS:DPSGY)'s stock had its "buy" rating reiterated by research analysts at Citigroup Inc. in a note issued to investors on Monday.
Several other research analysts also recently commented on the stock. DZ Bank AG restated a "buy" rating on shares of Deutsche Post AG in a research report on Monday. Zacks Investment Research upgraded shares of Deutsche Post AG from a "hold" rating to a "buy" rating and set a $35.00 price target for the company in a report on Wednesday, October 5th. Finally, Morgan Stanley reiterated a "buy" rating on shares of Deutsche Post AG in a report on Friday, June 17th. One research analyst has rated the stock with a sell rating, two have given a hold rating and six have given a buy rating to the company. The company presently has an average rating of "Buy" and an average target price of $35.00.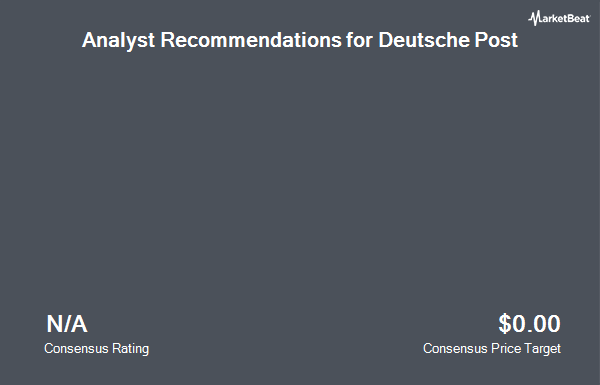 Shares of Deutsche Post AG (OTCMKTS:DPSGY) traded up 0.30% during mid-day trading on Monday, reaching $30.43. The company had a trading volume of 17,251 shares. The stock has a 50 day moving average of $31.38 and a 200-day moving average of $29.60. The firm has a market capitalization of $36.68 billion, a price-to-earnings ratio of 17.98 and a beta of 1.55. Deutsche Post AG has a one year low of $22.20 and a one year high of $32.80.
This story is the sole property of American Banking News and it was originally published by American Banking News. If you are reading this story on another website, that means this article was illegally copied and re-published to this website in violation of U.S. and International copyright law. The original version of this article is available at https://www.americanbankingnews.com/2016/10/10/deutsche-post-ag-dpsgy-receives-buy-rating-from-citigroup-inc.html
About Deutsche Post AG
Deutsche Post AG is a Germany-based logistics services provider. The Company operates four main business divisions: Mail; Express; Global Forwarding, Freight, and Supply Chain. The Mail business division comprises the transport and delivery of written communications and serves as an end-to-end service provider for the management of written communications.
Receive News & Ratings for Deutsche Post AG Daily - Enter your email address below to receive a concise daily summary of the latest news and analysts' ratings for Deutsche Post AG and related companies with MarketBeat.com's FREE daily email newsletter.