easyJet plc (EZJ) PT Lowered to GBX 825
easyJet plc (LON:EZJ) had its price objective decreased by equities researchers at Liberum Capital from GBX 930 ($12.14) to GBX 825 ($10.77) in a note issued to investors on Monday. The brokerage currently has a "sell" rating on the stock. Liberum Capital's target price would indicate a potential downside of 6.09% from the company's current price.
Other equities analysts have also issued research reports about the company. Deutsche Bank AG reaffirmed a "buy" rating and issued a GBX 1,520 ($19.84) price target on shares of easyJet plc in a research report on Tuesday, July 19th. Citigroup Inc. reduced their price objective on easyJet plc from GBX 1,600 ($20.89) to GBX 1,500 ($19.58) and set a "buy" rating for the company in a report on Friday, July 22nd. Goldman Sachs Group Inc. reiterated a "buy" rating and issued a GBX 1,740 ($22.71) price objective on shares of easyJet plc in a report on Monday, June 27th. Finally, Beaufort Securities upgraded easyJet plc to a "buy" rating in a report on Friday, August 5th. Three equities research analysts have rated the stock with a sell rating, thirteen have assigned a hold rating and eleven have given a buy rating to the company's stock. The stock presently has a consensus rating of "Hold" and an average target price of GBX 1,378.25 ($17.99).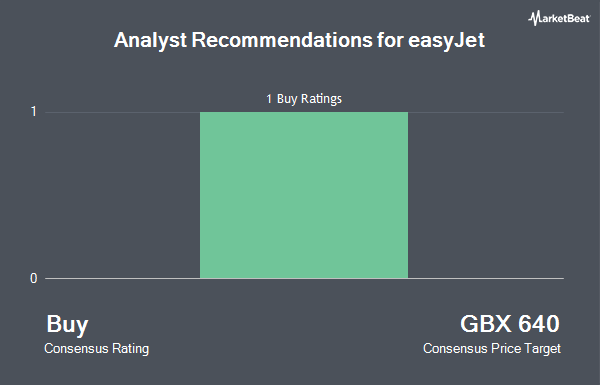 Shares of easyJet plc (LON:EZJ) opened at 879.50 on Monday. The stock's market capitalization is GBX 3.47 billion. easyJet plc has a one year low of GBX 862.56 and a one year high of GBX 1,809.00. The stock has a 50 day moving average of GBX 1,075.18 and a 200-day moving average of GBX 1,266.44.
This story is the sole property of American Banking News and it was originally published by American Banking News. If you are reading this story on another website, that means this article was illegally copied and re-published to this website in violation of U.S. and International copyright law. The original version of this article is available at https://www.americanbankingnews.com/2016/10/10/easyjet-plc-ezj-pt-lowered-to-gbx-825.html
In other news, insider Brocklesby,Chris sold 2,294 shares of the business's stock in a transaction that occurred on Friday, September 9th. The stock was sold at an average price of GBX 1,193 ($15.57), for a total transaction of £27,367.42 ($35,723.04). Also, insider Bierwirth,Andreas bought 1,480 shares of the business's stock in a transaction dated Wednesday, July 27th. The shares were bought at an average cost of GBX 1,004 ($13.11) per share, for a total transaction of £14,859.20 ($19,395.90).
About easyJet plc
easyJet plc is a United Kingdom-based short-haul airline. The Company operates in the short-haul European aviation market. The Company operates through the route network segment. The Company operates approximately 600 routes across over 30 countries with its fleet consisting of approximately 200 Airbus aircraft.
Receive News & Ratings for easyJet plc Daily - Enter your email address below to receive a concise daily summary of the latest news and analysts' ratings for easyJet plc and related companies with MarketBeat.com's FREE daily email newsletter.