Kier Group plc's (KIE) Buy Rating Reaffirmed at Peel Hunt
Kier Group plc (LON:KIE)'s stock had its "buy" rating restated by stock analysts at Peel Hunt in a note issued to investors on Monday. They currently have a GBX 1,400 ($17.33) price objective on the stock. Peel Hunt's price objective suggests a potential upside of 4.79% from the company's current price.
Several other brokerages also recently commented on KIE. Liberum Capital reissued a "buy" rating and issued a GBX 1,420 ($17.57) price objective on shares of Kier Group plc in a research note on Wednesday, September 28th. Beaufort Securities restated a "buy" rating on shares of Kier Group plc in a research report on Friday, September 23rd. JPMorgan Chase & Co. restated an "overweight" rating on shares of Kier Group plc in a research report on Friday, September 23rd. Jefferies Group decreased their price target on shares of Kier Group plc from GBX 1,500 ($18.56) to GBX 1,430 ($17.70) and set a "buy" rating for the company in a research report on Thursday, August 25th. Finally, Numis Securities Ltd cut shares of Kier Group plc to an "add" rating and set a GBX 1,407 ($17.41) price target for the company. in a research report on Thursday, September 22nd. One analyst has rated the stock with a hold rating and nine have issued a buy rating to the stock. The stock presently has a consensus rating of "Buy" and an average target price of GBX 1,463.33 ($18.11).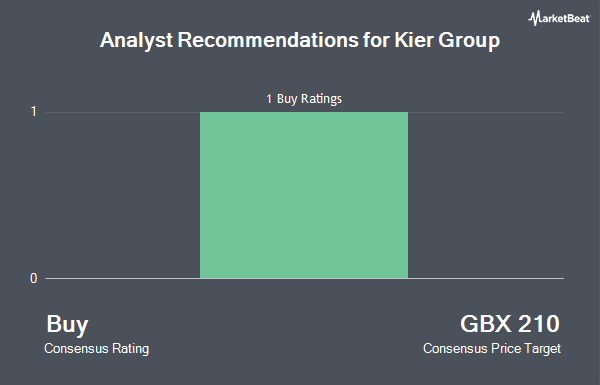 Kier Group plc (LON:KIE) traded down 0.52% during trading on Monday, reaching GBX 1336.00. 387,892 shares of the company's stock traded hands. The firm has a 50 day moving average price of GBX 1,283.72 and a 200-day moving average price of GBX 1,191.10. The firm's market cap is GBX 1.27 billion. Kier Group plc has a 12 month low of GBX 917.50 and a 12 month high of GBX 1,418.00.
This story is the sole property of American Banking News and it was originally published by American Banking News. If you are reading this story on another website, that means this article was illegally copied and re-published to this website in violation of U.S. and International copyright law. The original version of this article is available at https://www.americanbankingnews.com/2016/10/10/kier-group-plcs-kie-buy-rating-reaffirmed-at-peel-hunt.html
The company also recently disclosed a dividend, which will be paid on Friday, December 2nd. Stockholders of record on Thursday, September 29th will be given a dividend of GBX 43 ($0.53) per share. The ex-dividend date of this dividend is Thursday, September 29th. This is a boost from Kier Group plc's previous dividend of $21.50. This represents a dividend yield of 3.34%.
In related news, insider Veritiero,Claudio purchased 1,072 shares of Kier Group plc stock in a transaction on Friday, July 15th. The stock was acquired at an average cost of GBX 839 ($10.38) per share, for a total transaction of £8,994.08 ($11,131.29).
About Kier Group plc
Kier Group plc is a United Kingdom-based company, which provides property, residential, construction and services. The Company's business segments are Property, Residential, Construction, Services and Corporate. The Company operates across a range of sectors, including defense, education, health, housing, industrials, power, property, transport and utilities.
Receive News & Ratings for Kier Group plc Daily - Enter your email address below to receive a concise daily summary of the latest news and analysts' ratings for Kier Group plc and related companies with MarketBeat.com's FREE daily email newsletter.