Exfo Inc. (EXFO) to Release Quarterly Earnings on Wednesday
Exfo Inc. (NASDAQ:EXFO) is set to issue its Q416 quarterly earnings data on Wednesday, October 12th. Analysts expect the company to announce earnings of $0.05 per share and revenue of $59.52 million for the quarter.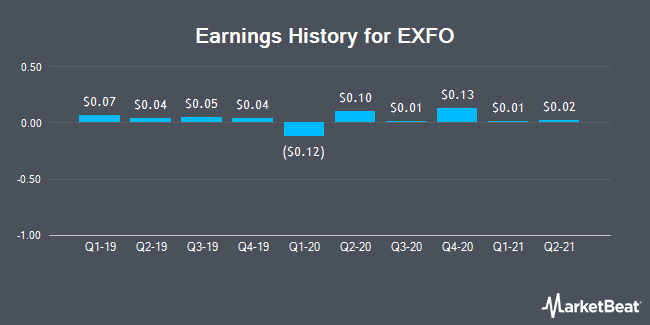 Exfo Inc. (NASDAQ:EXFO) opened at 3.75 on Tuesday. The stock has a market cap of $202.11 million, a PE ratio of 23.29 and a beta of 0.71. Exfo Inc. has a 12 month low of $2.35 and a 12 month high of $4.36. The stock has a 50 day moving average price of $3.55 and a 200-day moving average price of $3.70.
An institutional investor recently raised its position in Exfo stock. White Pine Capital LLC raised its position in Exfo Inc. (NASDAQ:EXFO) by 65.2% during the second quarter, according to its most recent disclosure with the Securities and Exchange Commission (SEC). The fund owned 38,000 shares of the company's stock after buying an additional 15,000 shares during the period. White Pine Capital LLC owned about 0.07% of Exfo worth $131,000 at the end of the most recent quarter. 15.07% of the stock is currently owned by hedge funds and other institutional investors.
This story is the sole property of American Banking News and it was originally published by American Banking News. If you are reading this story on another website, that means this article was illegally copied and re-published to this website in violation of U.S. and International copyright law. The original version of this article is available at https://www.americanbankingnews.com/2016/10/11/exfo-inc-exfo-to-release-quarterly-earnings-on-wednesday.html
A number of equities research analysts have recently weighed in on EXFO shares. Zacks Investment Research upgraded Exfo from a "sell" rating to a "hold" rating in a report on Tuesday, August 30th. Canaccord Genuity reiterated a "hold" rating and issued a $4.00 price target on shares of Exfo in a report on Thursday, August 11th. Finally, Royal Bank Of Canada restated a "sector perform" rating and set a $5.50 price objective on shares of Exfo in a research report on Thursday, June 30th. Six research analysts have rated the stock with a hold rating and one has issued a buy rating to the stock. The stock has a consensus rating of "Hold" and an average price target of $3.96.
Exfo Company Profile
EXFO Inc, formerly EXFO Electro-Optical Engineering Inc, designs, manufactures and markets test, service assurance and network visibility solutions for fixed and mobile network operators, Web-scale service providers, as well as equipment manufacturers in the global telecommunications industry. The Company focuses on network infrastructures, including fourth generation (4G)/long-term evolution (LTE), wireless backhaul, small cells and distributed antenna systems (DAS), 100G network upgrades and fiber-to-the-home (FTTH)/fiber-to-the-curb (FTTC)/fiber-to-the-node (FTTN) deployments.
Receive News & Ratings for Exfo Inc. Daily - Enter your email address below to receive a concise daily summary of the latest news and analysts' ratings for Exfo Inc. and related companies with MarketBeat.com's FREE daily email newsletter.