IAC/InterActiveCorp (IAC) Now Covered by Analysts at JPMorgan Chase & Co.
Equities researchers at JPMorgan Chase & Co. initiated coverage on shares of IAC/InterActiveCorp (NASDAQ:IAC) in a research note issued to investors on Tuesday, StockTargetPrices.com reports. The brokerage set an "overweight" rating on the stock.
A number of other research analysts also recently commented on IAC. Axiom Securities increased their price target on shares of IAC/InterActiveCorp from $74.00 to $80.00 and gave the company a "buy" rating in a report on Friday. Wells Fargo & Co. raised shares of IAC/InterActiveCorp from a "market perform" rating to an "outperform" rating in a report on Tuesday, September 20th. Two investment analysts have rated the stock with a sell rating, four have assigned a hold rating and fourteen have issued a buy rating to the company. The stock has an average rating of "Buy" and a consensus price target of $68.08.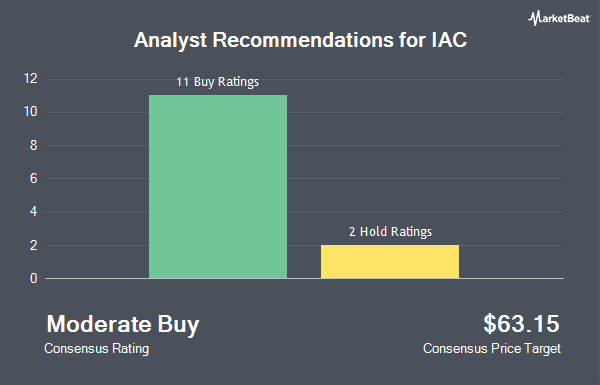 IAC/InterActiveCorp (NASDAQ:IAC) traded down 1.41% on Tuesday, hitting $61.52. The company's stock had a trading volume of 238,793 shares. IAC/InterActiveCorp has a 12 month low of $38.82 and a 12 month high of $73.15. The firm's market cap is $4.90 billion. The firm has a 50 day moving average of $59.93 and a 200 day moving average of $55.47.
This story is the sole property of American Banking News and it was originally published by American Banking News. If you are reading this story on another website, that means this article was illegally copied and re-published to this website in violation of U.S. and International copyright law. The original version of this article is available at https://www.americanbankingnews.com/2016/10/11/iacinteractivecorp-iac-now-covered-by-analysts-at-jpmorgan-chase-co.html
IAC/InterActiveCorp Company Profile

Receive News & Ratings for IAC/InterActiveCorp Daily - Enter your email address below to receive a concise daily summary of the latest news and analysts' ratings for IAC/InterActiveCorp and related companies with MarketBeat.com's FREE daily email newsletter.