U.S. Global Investors Inc. (GROW) Plans $0.00 Monthly Dividend
U.S. Global Investors Inc. (NASDAQ:GROW) announced a monthly dividend on Tuesday, October 11th. Shareholders of record on Monday, February 13th will be given a dividend of 0.0025 per share on Monday, February 27th. This represents a $0.03 annualized dividend and a yield of 1.78%. The ex-dividend date is Thursday, February 9th.
U.S. Global Investors (NASDAQ:GROW) traded up 3.620% during mid-day trading on Tuesday, reaching $1.689. 138,245 shares of the company's stock traded hands. The stock's market cap is $25.74 million. U.S. Global Investors has a 12 month low of $0.96 and a 12 month high of $2.33. The company has a 50 day moving average price of $1.88 and a 200-day moving average price of $1.88.
U.S. Global Investors (NASDAQ:GROW) last announced its quarterly earnings data on Wednesday, September 14th. The company reported ($0.02) EPS for the quarter. U.S. Global Investors had a negative return on equity of 14.11% and a negative net margin of 62.79%. On average, analysts anticipate that U.S. Global Investors will post $0.42 EPS for the current year.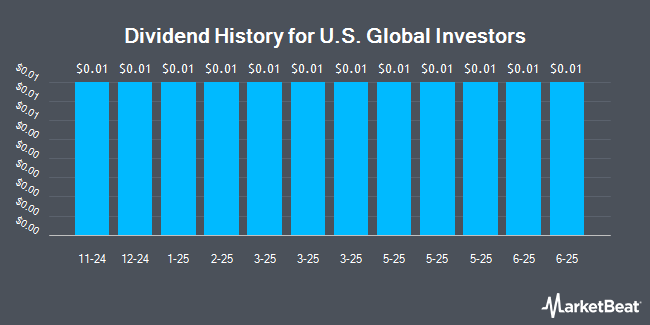 This story is the sole property of American Banking News and it was originally published by American Banking News. If you are reading this story on another website, that means this article was illegally copied and re-published to this website in violation of U.S. and International copyright law. The original version of this article is available at https://www.americanbankingnews.com/2016/10/11/u-s-global-investors-inc-grow-plans-0-00-monthly-dividend.html
About U.S. Global Investors
U.S. Global Investors, Inc (U.S. Global) is an investment adviser. The Company and its subsidiaries are principally engaged in the business of providing investment advisory and other services to the United States Global Investors Funds (USGIF), as well as offshore clients. As part of the mutual fund management business, the Company provides investment advisory services; transfer agency and record keeping services; distribution services, and administrative services to mutual funds advised by the Company.
Receive News & Ratings for U.S. Global Investors Inc. Daily - Enter your email address below to receive a concise daily summary of the latest news and analysts' ratings for U.S. Global Investors Inc. and related companies with MarketBeat.com's FREE daily email newsletter.