Fortis Inc (FTS) Earns Outperform Rating from Scotiabank
Fortis Inc (TSE:FTS)'s stock had its "outperform" rating reissued by equities research analysts at Scotiabank in a research note issued on Wednesday. They presently have a C$48.00 price objective on the stock. Scotiabank's price objective points to a potential upside of 18.34% from the stock's current price.
Several other research analysts have also issued reports on FTS. TD Securities reaffirmed a "buy" rating and set a C$48.00 target price on shares of Fortis in a research report on Monday, July 4th. BMO Capital Markets raised their target price on Fortis from C$46.00 to C$49.00 in a research report on Thursday, July 7th. CIBC lowered Fortis from an "outperform" rating to a "sector perform" rating in a research report on Wednesday, July 20th. CSFB raised their target price on Fortis from C$42.00 to C$46.00 in a research report on Monday, July 25th. Finally, Royal Bank Of Canada raised their target price on Fortis from C$48.00 to C$52.00 and gave the stock an "outperform" rating in a research report on Wednesday, August 3rd. Four equities research analysts have rated the stock with a hold rating and five have given a buy rating to the stock. The stock presently has an average rating of "Buy" and a consensus target price of C$46.60.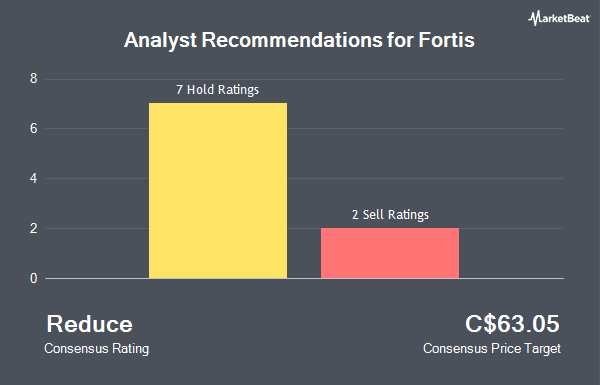 Shares of Fortis (TSE:FTS) traded up 1.90% during mid-day trading on Wednesday, hitting $41.33. The stock had a trading volume of 1,129,245 shares. The firm's 50 day moving average price is $41.67 and its 200 day moving average price is $41.64. Fortis has a 1-year low of $35.51 and a 1-year high of $44.87. The company has a market cap of $11.76 billion and a P/E ratio of 21.03.
This story is the sole property of American Banking News and it was originally published by American Banking News. If you are reading this story on another website, that means this article was illegally copied and re-published to this website in violation of U.S. and International copyright law. The original version of this article is available at http://www.americanbankingnews.com/2016/10/12/fortis-inc-fts-earns-outperform-rating-from-scotiabank.html
The firm also recently declared a quarterly dividend, which will be paid on Thursday, December 1st. Shareholders of record on Friday, November 18th will be issued a dividend of $0.40 per share. This is an increase from Fortis's previous quarterly dividend of $0.38. This represents a $1.60 dividend on an annualized basis and a yield of 3.94%.
Fortis Company Profile
Fortis Inc (Fortis) is a Canada-based electric and gas utility company. The Company's segments include Regulated Utilities and Non-Regulated Utilities. The Regulated Utilities segment includes Regulated Electric & Gas Utilities-United States, which consists of UNS Energy Corporation (UNS Energy) and Central Hudson Gas & Electric Corporation (Central Hudson); Regulated Gas Utility-Canadian, which consists of FortisBC Energy Inc (FortisBC Energy); Regulated Electric Utilities-Canadian, which consists of FortisAlberta Inc (FortisAlberta), FortisBC Electric and Eastern Canadian, and Regulated Electric Utilities-Caribbean, which includes its ownership interest in Caribbean Utilities Company, Ltd.
Receive News & Ratings for Fortis Inc Daily - Enter your email address below to receive a concise daily summary of the latest news and analysts' ratings for Fortis Inc and related companies with MarketBeat.com's FREE daily email newsletter.