Goldman Sachs Group Inc. Reiterates Sell Rating for Deutsche Lufthansa AG (DLAKY)
Deutsche Lufthansa AG (OTCMKTS:DLAKY)'s stock had its "sell" rating reissued by stock analysts at Goldman Sachs Group Inc. in a research report issued on Thursday.
Separately, DZ Bank AG restated a "buy" rating on shares of Deutsche Lufthansa AG in a research report on Monday, June 27th. Three equities research analysts have rated the stock with a sell rating and three have issued a hold rating to the company. Deutsche Lufthansa AG presently has an average rating of "Hold" and an average target price of $18.00.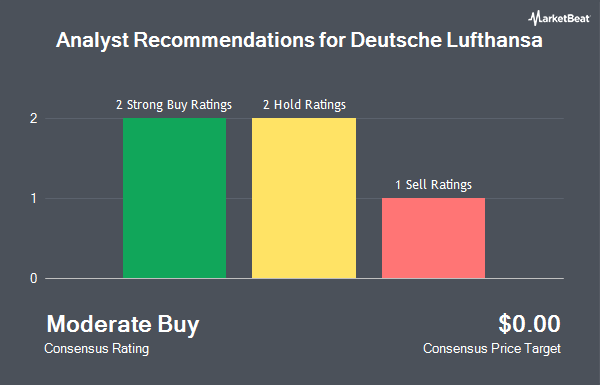 Deutsche Lufthansa AG (OTCMKTS:DLAKY) traded down 2.49% during trading on Thursday, reaching $10.95. 15,272 shares of the company's stock traded hands. The firm's 50 day moving average price is $11.49 and its 200-day moving average price is $12.98. The stock has a market cap of $5.09 billion, a P/E ratio of 3.89 and a beta of 0.92. Deutsche Lufthansa AG has a one year low of $10.35 and a one year high of $17.10.
This story is the sole property of American Banking News and it was originally published by American Banking News. If you are reading this story on another website, that means this article was illegally copied and re-published to this website in violation of U.S. and International copyright law. The original version of this article is available at http://www.americanbankingnews.com/2016/10/13/goldman-sachs-group-inc-reiterates-sell-rating-for-deutsche-lufthansa-ag-dlaky.html
About Deutsche Lufthansa AG
Deutsche Lufthansa AG is an aviation company. The Company's segments include Passenger Airline Group; Logistics; maintenance, repair and overhaul services (MRO), Catering and Other. The Company's fleet consists of approximately 600 aircrafts. The Company's Passenger Airline Group segment includes the airlines Lufthansa Passenger Airlines (including Germanwings and Eurowings), SWISS and Austrian Airlines.
Receive News & Ratings for Deutsche Lufthansa AG Daily - Enter your email address below to receive a concise daily summary of the latest news and analysts' ratings for Deutsche Lufthansa AG and related companies with MarketBeat.com's FREE daily email newsletter.