Peel Hunt Reaffirms "Hold" Rating for Cranswick plc (CWK)
Cranswick plc (LON:CWK)'s stock had its "hold" rating reissued by Peel Hunt in a research report issued to clients and investors on Friday.
Other research analysts have also recently issued reports about the stock. Liberum Capital reissued a "hold" rating and issued a GBX 2,500 ($30.94) price target on shares of Cranswick plc in a report on Monday, October 3rd. Numis Securities Ltd reissued a "hold" rating and issued a GBX 2,456 ($30.40) price target on shares of Cranswick plc in a report on Tuesday, July 26th. Three research analysts have rated the stock with a hold rating and three have given a buy rating to the company. The company presently has a consensus rating of "Buy" and an average price target of GBX 2,371.20 ($29.35).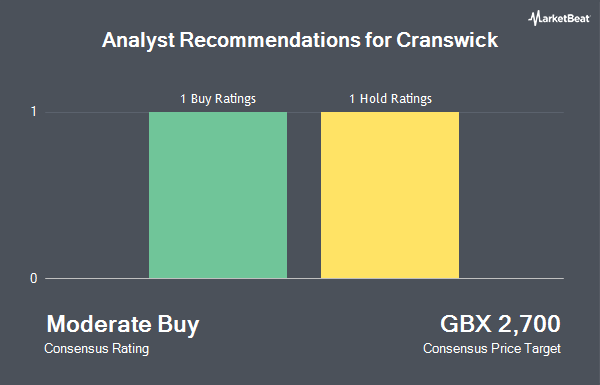 Cranswick plc (LON:CWK) opened at 2419.00 on Friday. The company has a 50-day moving average of GBX 2,340.89 and a 200 day moving average of GBX 2,291.50. Cranswick plc has a 52-week low of GBX 1,605.12 and a 52-week high of GBX 2,608.91. The company's market cap is GBX 1.21 billion.
This story is the sole property of American Banking News and it was originally published by American Banking News. If you are reading this story on another website, that means this article was illegally copied and re-published to this website in violation of U.S. and International copyright law. The original version of this article is available at http://www.americanbankingnews.com/2016/10/14/peel-hunt-reaffirms-hold-rating-for-cranswick-plc-cwk.html
Cranswick plc Company Profile
Cranswick plc is a supplier of food products. The Company operates through Foods segment, which is engaged in the manufacture and supply of food products to the United Kingdom grocery retailers, the food service sector and other food producers. The Company provides a range of pork, gourmet sausages, cooked meats, cooked poultry, charcuterie, hand-cured and air-dried bacon, gourmet pastry products and sandwiches through retail, food servicing and manufacturing channels.
Receive News & Ratings for Cranswick plc Daily - Enter your email address below to receive a concise daily summary of the latest news and analysts' ratings for Cranswick plc and related companies with MarketBeat.com's FREE daily email newsletter.