Alacer Gold Corp Forecasted to Post FY2017 Earnings of ($0.06) Per Share (ASR)
Alacer Gold Corp (TSE:ASR) – Equities researchers at National Bank Financial cut their FY2017 earnings per share (EPS) estimates for shares of Alacer Gold Corp in a report issued on Wednesday. National Bank Financial analyst S. Parsons now expects that the brokerage will earn ($0.06) per share for the year, down from their prior forecast of ($0.03).
Several other equities research analysts have also recently weighed in on ASR. Scotiabank reaffirmed an "outperform" rating and issued a C$3.75 price target on shares of Alacer Gold Corp in a research report on Tuesday, June 28th. Raymond James Financial Inc. upped their price target on shares of Alacer Gold Corp from C$4.25 to C$4.50 in a research report on Monday, June 27th. Four equities research analysts have rated the stock with a hold rating and one has assigned a buy rating to the stock. The stock currently has an average rating of "Hold" and an average price target of C$3.92.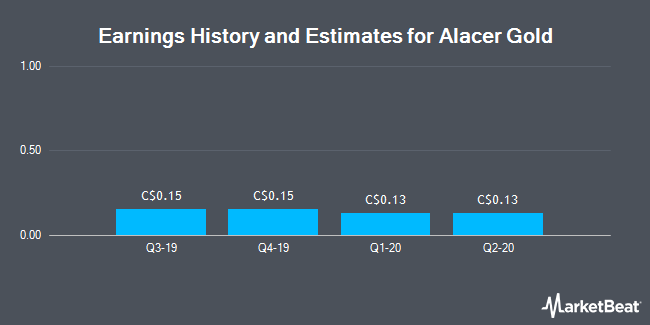 Alacer Gold Corp (TSE:ASR) opened at 2.88 on Monday. The stock has a market cap of $840.78 million and a PE ratio of 26.42. The stock's 50 day moving average is $3.27 and its 200 day moving average is $3.13. Alacer Gold Corp has a 52 week low of $2.08 and a 52 week high of $3.79.
This story is the sole property of American Banking News and it was originally published by American Banking News. If you are reading this story on another website, that means this article was illegally copied and re-published to this website in violation of U.S. and International copyright law. The original version of this article is available at https://www.americanbankingnews.com/2016/10/17/alacer-gold-corp-forecasted-to-post-fy2017-earnings-of-0-06-per-share-asr.html
Alacer Gold Corp Company Profile
Alacer Gold Corp. (Alacer) is an intermediate gold mining company. The Company operates in the segment of mining, development and exploration of mineral deposits in Turkey. The Company's principal products are gold, copper and silver. The Company has an interest in the Copler Gold Mine in Turkey. Its Copler Sulfide Expansion Project is a gold exploration project located in east-central Turkey.
Receive News & Ratings for Alacer Gold Corp Daily - Enter your email address below to receive a concise daily summary of the latest news and analysts' ratings for Alacer Gold Corp and related companies with MarketBeat.com's FREE daily email newsletter.