Ashtead Group plc's (AHT) Neutral Rating Reiterated at BNP Paribas
Ashtead Group plc (LON:AHT)'s stock had its "neutral" rating reiterated by equities researchers at BNP Paribas in a research report issued to clients and investors on Monday. They presently have a GBX 1,100 ($13.61) price objective on the stock. BNP Paribas' price objective indicates a potential downside of 16.35% from the stock's previous close.
Several other research analysts also recently commented on the company. JPMorgan Chase & Co. restated an "overweight" rating and set a GBX 1,140 ($14.11) price objective on shares of Ashtead Group plc in a report on Thursday, July 21st. Barclays PLC reiterated an "overweight" rating and issued a GBX 1,180 ($14.60) price target on shares of Ashtead Group plc in a report on Monday, July 11th. Royal Bank Of Canada began coverage on Ashtead Group plc in a report on Thursday. They issued an "outperform" rating and a GBX 1,580 ($19.55) price target on the stock. Credit Suisse Group AG upgraded Ashtead Group plc to a "neutral" rating and lifted their price target for the company from GBX 770 ($9.53) to GBX 1,150 ($14.23) in a report on Tuesday, September 27th. Finally, Jefferies Group reiterated a "buy" rating on shares of Ashtead Group plc in a report on Tuesday, August 2nd. One equities research analyst has rated the stock with a sell rating, four have given a hold rating and ten have given a buy rating to the stock. The stock currently has an average rating of "Buy" and an average target price of GBX 1,306.27 ($16.17).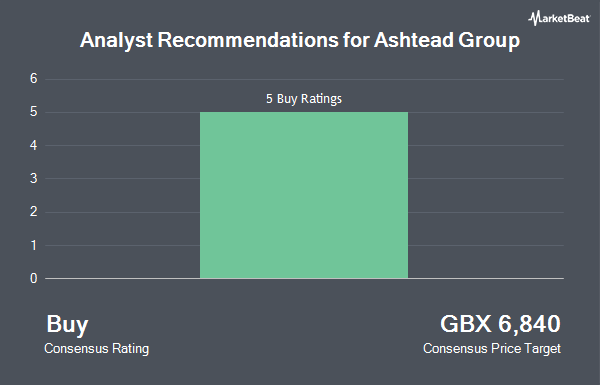 Ashtead Group plc (LON:AHT) opened at 1311.00 on Monday. The company's market cap is GBX 6.55 billion. Ashtead Group plc has a 12-month low of GBX 749.00 and a 12-month high of GBX 1,378.93. The firm has a 50-day moving average price of GBX 1,263.38 and a 200-day moving average price of GBX 1,076.46.
This story is the sole property of American Banking News and it was originally published by American Banking News. If you are reading this story on another website, that means this article was illegally copied and re-published to this website in violation of U.S. and International copyright law. The original version of this article is available at https://www.americanbankingnews.com/2016/10/17/ashtead-group-plcs-aht-neutral-rating-reiterated-at-bnp-paribas.html
In other news, insider Cole,Christopher sold 25,000 shares of the business's stock in a transaction dated Tuesday, July 26th. The stock was sold at an average price of GBX 1,186 ($14.68), for a total value of £296,500 ($366,955.45).
About Ashtead Group plc
Ashtead Group plc is a United Kingdom-based equipment rental company with networks in the United States and the United Kingdom. The Company operates through two business units: Sunbelt, which provides pump and power, climate control and scaffolding service, and A-Plant business, which operates through Eve Trakway Limited (Eve), which constructs temporary roadways and barriers; PSS, which offers trenchless technology and fusion services, and FLG (lifting) services.
Receive News & Ratings for Ashtead Group plc Daily - Enter your email address below to receive a concise daily summary of the latest news and analysts' ratings for Ashtead Group plc and related companies with MarketBeat.com's FREE daily email newsletter.