Bayer AG (BAYRY) Upgraded to Buy by Zacks Investment Research
Bayer AG (OTCMKTS:BAYRY) was upgraded by Zacks Investment Research from a "hold" rating to a "buy" rating in a research note issued on Monday. The firm currently has a $111.00 price objective on the stock. Zacks Investment Research's price objective would suggest a potential upside of 12.72% from the company's previous close.
According to Zacks, "Bayer's Life Science businesses continue to perform well, particularly the Pharmaceuticals and Consumer Health businesses. Newly launched products in the Pharmaceuticals segment should continue to perform impressively in the upcoming quarters. Bayer has made several acquisitions and entered into a number of deals to boost its portfolio in the past few quarters. In its attempt to create a global leader in agriculture, Bayer signed an agreement to acquire Monsanto for an aggregate value of $66 billion. We are further pleased with Bayer's strategy of transforming itself into a pure life science company, which resulted in the sale of its Diabetes Care business and the spin-off of MaterialScience. Estimates have been going up ahead of the company's Q3 earnings release. However, we are concerned about the company's dependence on the Pharmaceuticals segment for growth."
Other equities research analysts also recently issued research reports about the company. Sanford C. Bernstein reissued a "buy" rating on shares of Bayer AG in a research report on Thursday, September 15th. Citigroup Inc. raised Bayer AG from a "neutral" rating to a "buy" rating in a research report on Thursday, August 25th. Finally, Goldman Sachs Group Inc. reissued a "buy" rating on shares of Bayer AG in a research report on Wednesday, September 14th. Five investment analysts have rated the stock with a hold rating and nine have given a buy rating to the stock. The company currently has an average rating of "Buy" and an average price target of $120.50.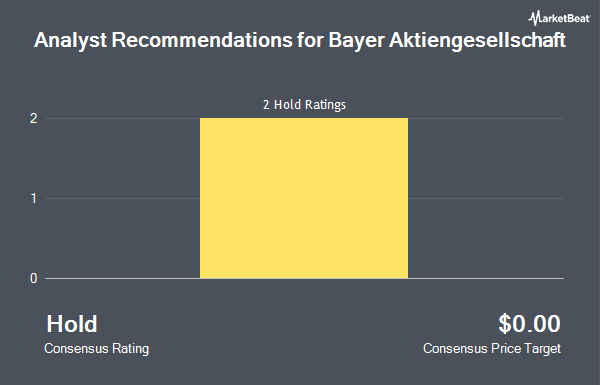 This story is the sole property of American Banking News and it was originally published by American Banking News. If you are reading this story on another website, that means this article was illegally copied and re-published to this website in violation of U.S. and International copyright law. The original version of this article is available at http://www.americanbankingnews.com/2016/10/17/bayer-ag-bayry-upgraded-to-buy-by-zacks-investment-research.html
Shares of Bayer AG (OTCMKTS:BAYRY) traded down 0.83% during midday trading on Monday, hitting $98.51. The stock had a trading volume of 23,170 shares. Bayer AG has a one year low of $94.36 and a one year high of $135.71. The company has a market cap of $81.46 billion, a P/E ratio of 16.24 and a beta of 1.35. The stock has a 50 day moving average of $103.03 and a 200-day moving average of $106.34.
About Bayer AG
Bayer AG is a life science company. The Company's segments are Pharmaceuticals, Consumer Health, Crop Science, Animal Health and Covestro. The Pharmaceuticals segment is engaged in the development of prescription pharmaceuticals; contraceptives, and medical products, such as injection systems and contrast agents for diagnostic procedures.
Get a free copy of the Zacks research report on Bayer AG (BAYRY)
For more information about research offerings from Zacks Investment Research, visit Zacks.com
Receive News & Ratings for Bayer AG Daily - Enter your email address below to receive a concise daily summary of the latest news and analysts' ratings for Bayer AG and related companies with MarketBeat.com's FREE daily email newsletter.