Danone (DANOY) Stock Rating Reaffirmed by Morgan Stanley
Danone (OTCMKTS:DANOY)'s stock had its "buy" rating reissued by Morgan Stanley in a report released on Monday.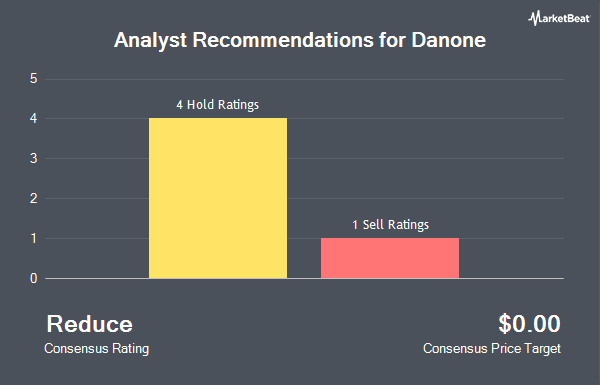 Shares of Danone (OTCMKTS:DANOY) opened at 14.15 on Monday. The company's 50-day moving average price is $14.81 and its 200 day moving average price is $14.43. The stock has a market cap of $43.64 billion, a PE ratio of 22.40 and a beta of 0.88. Danone has a 1-year low of $12.48 and a 1-year high of $15.77.
Danone Company Profile
Danone SA is engaged in holding directly or indirectly companies, and coordination of the main functions and activities. The Company operates through four segments: Fresh Dairy Products Division, Waters Division, Early Life Nutrition Division and Medical Nutrition Division. The Fresh Dairy Products Division is engaged in the production and distribution of yogurts, fermented dairy products and other fresh dairy specialties.
Receive News & Ratings for Danone Daily - Enter your email address below to receive a concise daily summary of the latest news and analysts' ratings for Danone and related companies with MarketBeat.com's FREE daily email newsletter.