Enquest Plc (ENQ) Upgraded by Barclays PLC to Overweight
Enquest Plc (LON:ENQ) was upgraded by Barclays PLC to an "overweight" rating in a research note issued to investors on Monday. The brokerage currently has a GBX 40 ($0.50) target price on the oil and gas development company's stock. Barclays PLC's price objective points to a potential upside of 37.93% from the stock's current price.
ENQ has been the topic of a number of other research reports. Jefferies Group reaffirmed a "hold" rating and issued a GBX 31 ($0.38) price objective on shares of Enquest Plc in a research note on Tuesday, June 21st. Canaccord Genuity downgraded Enquest Plc to a "hold" rating and reduced their price objective for the stock from GBX 50 ($0.62) to GBX 32 ($0.40) in a research note on Tuesday, August 16th. FirstEnergy Capital reaffirmed a "speculative buy" rating and issued a GBX 55 ($0.68) price objective on shares of Enquest Plc in a research note on Thursday, September 15th. Macquarie reduced their price objective on Enquest Plc from GBX 65 ($0.80) to GBX 60 ($0.74) and set an "outperform" rating on the stock in a research note on Friday, September 9th. Finally, Liberum Capital lifted their target price on Enquest Plc from GBX 10 ($0.12) to GBX 25 ($0.31) and gave the stock a "sell" rating in a report on Wednesday, June 29th. One equities research analyst has rated the stock with a sell rating, nine have issued a hold rating and two have issued a buy rating to the stock. Enquest Plc presently has a consensus rating of "Hold" and an average price target of GBX 37.46 ($0.46).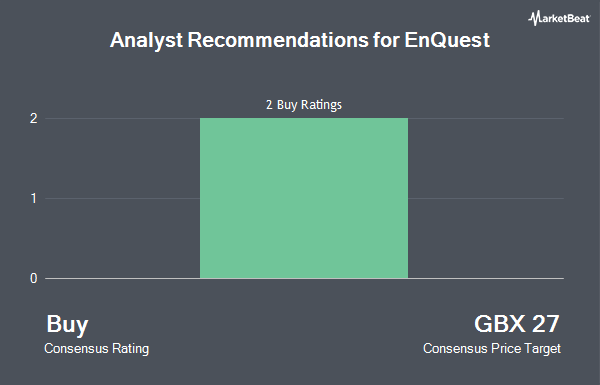 Enquest Plc (LON:ENQ) opened at 29.4349 on Monday. Enquest Plc has a one year low of GBX 10.50 and a one year high of GBX 42.10. The company's market cap is GBX 228.53 million. The company's 50 day moving average price is GBX 27.30 and its 200-day moving average price is GBX 29.73.
This story is the sole property of American Banking News and it was originally published by American Banking News. If you are reading this story on another website, that means this article was illegally copied and re-published to this website in violation of U.S. and International copyright law. The original version of this article is available at https://www.americanbankingnews.com/2016/10/17/enquest-plc-enq-upgraded-by-barclays-plc-to-overweight.html
About Enquest Plc
EnQuest PLC is a United Kingdom-based oil and gas development and production company. The Company's principal activities are the exploration for, and extraction and production of, hydrocarbons in the United Kingdom Continental Shelf and Malaysia. The Company focuses on maturing assets and undeveloped oil fields.
Receive News & Ratings for Enquest Plc Daily - Enter your email address below to receive a concise daily summary of the latest news and analysts' ratings for Enquest Plc and related companies with MarketBeat.com's FREE daily email newsletter.