Gildan Activewear Inc (GIL) Rating Reiterated by Royal Bank Of Canada
Gildan Activewear Inc (TSE:GIL)'s stock had its "outperform" rating restated by research analysts at Royal Bank Of Canada in a report released on Monday, StockTargetPrices.com reports. They presently have a C$44.50 price target on the stock. Royal Bank Of Canada's price target would suggest a potential upside of 25.18% from the stock's previous close.
Several other equities research analysts have also commented on GIL. TD Securities restated a "buy" rating and set a C$36.00 target price on shares of Gildan Activewear in a research report on Thursday, July 28th. National Bank Financial cut their price target on Gildan Activewear from C$45.00 to C$43.00 in a report on Thursday, July 28th. Scotiabank reiterated an "outperform" rating and issued a C$44.00 price target on shares of Gildan Activewear in a report on Thursday, July 28th. Finally, Desjardins reiterated a "buy" rating on shares of Gildan Activewear in a report on Thursday, July 7th. Five analysts have rated the stock with a buy rating, The company presently has an average rating of "Buy" and an average target price of C$41.92.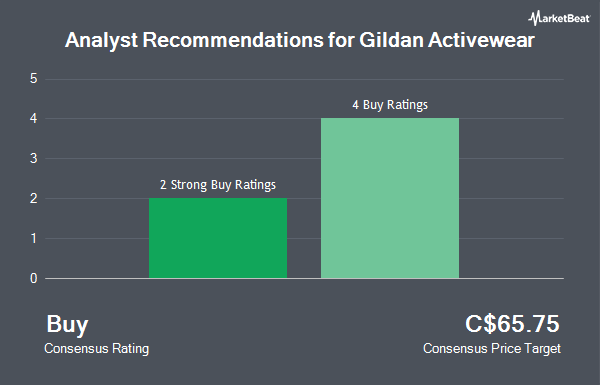 Shares of Gildan Activewear (TSE:GIL) traded down 0.45% on Monday, hitting $35.46. The stock had a trading volume of 42,530 shares. The company has a market capitalization of $8.22 billion and a price-to-earnings ratio of 24.68. The company has a 50-day moving average of $37.21 and a 200 day moving average of $38.35. Gildan Activewear has a 52 week low of $31.24 and a 52 week high of $42.44.
This story is the sole property of American Banking News and it was originally published by American Banking News. If you are reading this story on another website, that means this article was illegally copied and re-published to this website in violation of U.S. and International copyright law. The original version of this article is available at http://www.americanbankingnews.com/2016/10/17/gildan-activewear-inc-gil-rating-reiterated-by-royal-bank-of-canada.html
Gildan Activewear Company Profile
Gildan Activewear Inc is a manufacturer and marketer of branded basic family apparel. The Company's segments include Printwear and Branded Apparel. It offers T-shirts, fleece, sport shirts, underwear, socks, hosiery and shapewear. It markets its products through approximately two main distribution channels.

Receive News & Ratings for Gildan Activewear Inc Daily - Enter your email address below to receive a concise daily summary of the latest news and analysts' ratings for Gildan Activewear Inc and related companies with MarketBeat.com's FREE daily email newsletter.