Kinross Gold Co. Expected to Post FY2016 Earnings of ($0.01) Per Share (K)
Kinross Gold Co. (TSE:K) – Investment analysts at National Bank Financial decreased their FY2016 earnings per share (EPS) estimates for Kinross Gold in a report released on Wednesday. National Bank Financial analyst S. Parsons now anticipates that the brokerage will post earnings per share of ($0.01) for the year, down from their prior forecast of $0.12. National Bank Financial also issued estimates for Kinross Gold's FY2017 earnings at $0.16 EPS.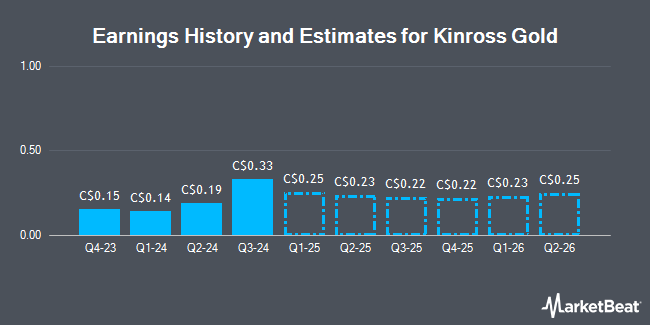 Several other equities analysts also recently issued reports on K. Royal Bank Of Canada reissued an "outperform" rating and set a C$10.00 price target on shares of Kinross Gold in a report on Friday, September 23rd. TD Securities reissued a "buy" rating and set a C$7.50 price target on shares of Kinross Gold in a report on Monday, July 25th. Finally, Canaccord Genuity boosted their price target on shares of Kinross Gold from C$7.75 to C$9.75 in a report on Tuesday, July 12th. One analyst has rated the stock with a hold rating and three have given a buy rating to the company's stock. Kinross Gold currently has an average rating of "Buy" and an average price target of C$7.60.
Shares of Kinross Gold (TSE:K) opened at 4.74 on Monday. The firm's market capitalization is $5.90 billion. The company has a 50-day moving average of $5.37 and a 200-day moving average of $6.08. Kinross Gold has a 52 week low of $1.91 and a 52 week high of $7.56.
This story is the sole property of American Banking News and it was originally published by American Banking News. If you are reading this story on another website, that means this article was illegally copied and re-published to this website in violation of U.S. and International copyright law. The original version of this article is available at https://www.americanbankingnews.com/2016/10/17/kinross-gold-co-expected-to-post-fy2016-earnings-of-0-01-per-share-k.html
Kinross Gold Company Profile
Kinross Gold Corporation is gold mining company. The Company is engaged in gold mining and related activities, including exploration and acquisition of gold-bearing properties, the extraction and processing of gold-containing ore, and reclamation of gold mining properties. Its segments include Fort Knox, Round Mountain, Kettle River-Buckhorn, Kupol, Paracatu, Maricunga, Tasiast and Chirano.
Receive News & Ratings for Kinross Gold Co. Daily - Enter your email address below to receive a concise daily summary of the latest news and analysts' ratings for Kinross Gold Co. and related companies with MarketBeat.com's FREE daily email newsletter.