MTY Food Group Inc. Forecasted to Earn FY2016 Earnings of $2.15 Per Share (MTY)
MTY Food Group Inc. (TSE:MTY) – Analysts at National Bank Financial upped their FY2016 earnings estimates for shares of MTY Food Group in a research note issued on Thursday. National Bank Financial analyst L. Aghazarian now forecasts that the firm will post earnings of $2.15 per share for the year, up from their previous forecast of $1.88. National Bank Financial also issued estimates for MTY Food Group's FY2017 earnings at $2.62 EPS.
Separately, Scotiabank restated an "outperform" rating and issued a C$49.00 target price on shares of MTY Food Group in a report on Thursday.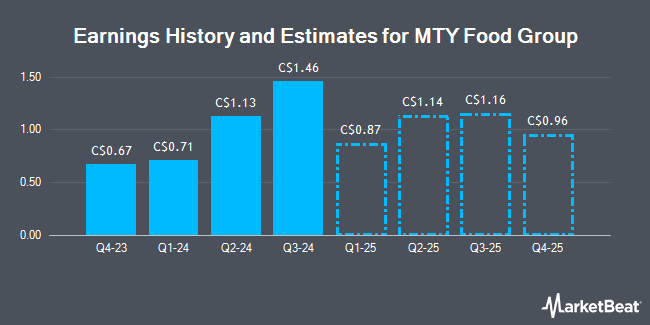 MTY Food Group (TSE:MTY) opened at 45.26 on Monday. The stock has a market cap of $865.37 million and a P/E ratio of 31.43. The company has a 50-day moving average of $43.76 and a 200-day moving average of $40.33. MTY Food Group has a 52 week low of $27.91 and a 52 week high of $46.50.
This story is the sole property of American Banking News and it was originally published by American Banking News. If you are reading this story on another website, that means this article was illegally copied and re-published to this website in violation of U.S. and International copyright law. The original version of this article is available at https://www.americanbankingnews.com/2016/10/17/mty-food-group-inc-forecasted-to-earn-fy2016-earnings-of-2-15-per-share-mty.html
MTY Food Group Company Profile
MTY Food Group Inc is a Canada-based company, which franchises and operates quick-service restaurants. The Company operates in four segments: Franchising, which includes revenue from royalties, supplier contributions, franchise fees, rent, and the construction and renovation of restaurants; Corporate, which includes the direct sale of prepared food to customers; Distribution, which includes distribution of raw materials to restaurants of its Valentine and Franx banners, and processing, which includes the sale of ingredients and prepared food to restaurant chains, distributors and retailers.
Receive News & Ratings for MTY Food Group Inc. Daily - Enter your email address below to receive a concise daily summary of the latest news and analysts' ratings for MTY Food Group Inc. and related companies with MarketBeat.com's FREE daily email newsletter.