Ocado Group PLC (OCDO) Rating Reiterated by BNP Paribas
Ocado Group PLC (LON:OCDO)'s stock had its "underperform" rating reaffirmed by equities researchers at BNP Paribas in a research report issued to clients and investors on Monday. They presently have a GBX 215 ($2.66) target price on the stock. BNP Paribas' price objective suggests a potential downside of 15.52% from the company's current price.
Other equities research analysts also recently issued reports about the stock. Numis Securities Ltd reaffirmed a "buy" rating and set a GBX 400 ($4.95) target price on shares of Ocado Group PLC in a research note on Tuesday, June 28th. Goldman Sachs Group Inc. reissued a "conviction-buy" rating and issued a GBX 650 ($8.04) price objective on shares of Ocado Group PLC in a research report on Monday, June 27th. Barclays PLC dropped their price objective on shares of Ocado Group PLC from GBX 290 ($3.59) to GBX 265 ($3.28) and set an "equal weight" rating on the stock in a research report on Wednesday, June 29th. Shore Capital raised shares of Ocado Group PLC to a "hold" rating in a research report on Tuesday, August 9th. Finally, Deutsche Bank AG reissued a "hold" rating and issued a GBX 280 ($3.47) price objective on shares of Ocado Group PLC in a research report on Friday, June 24th. Five investment analysts have rated the stock with a sell rating, two have issued a hold rating, five have given a buy rating and one has given a strong buy rating to the company. The stock has a consensus rating of "Hold" and an average target price of GBX 322.08 ($3.99).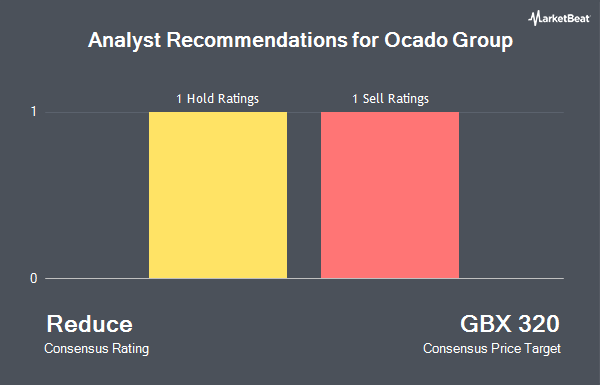 Shares of Ocado Group PLC (LON:OCDO) opened at 255.82 on Monday. Ocado Group PLC has a 1-year low of GBX 203.00 and a 1-year high of GBX 412.70. The stock's 50 day moving average is GBX 279.08 and its 200 day moving average is GBX 276.96. The firm's market capitalization is GBX 1.51 billion.
This story is the sole property of American Banking News and it was originally published by American Banking News. If you are reading this story on another website, that means this article was illegally copied and re-published to this website in violation of U.S. and International copyright law. The original version of this article is available at https://www.americanbankingnews.com/2016/10/17/ocado-group-plc-ocdo-rating-reiterated-by-bnp-paribas.html
In other Ocado Group PLC news, insider Andrew Harrison purchased 11,500 shares of the firm's stock in a transaction that occurred on Monday, September 26th. The stock was purchased at an average price of GBX 258 ($3.19) per share, for a total transaction of £29,670 ($36,720.30).
Ocado Group PLC Company Profile
Ocado Group plc is a United Kingdom-based company engaged in grocery retailing and the development and monetization of intellectual property (IP) and technology used for the online retailing, logistics and distribution of grocery and consumer goods. The Company sells groceries and other every day and specialist products to consumers placing orders through its interfaces.
Receive News & Ratings for Ocado Group PLC Daily - Enter your email address below to receive a concise daily summary of the latest news and analysts' ratings for Ocado Group PLC and related companies with MarketBeat.com's FREE daily email newsletter.