Senior plc (SNR) Price Target Increased to GBX 250 by Analysts at Jefferies Group
Senior plc (LON:SNR) had its price objective boosted by stock analysts at Jefferies Group from GBX 245 ($3.03) to GBX 250 ($3.09) in a report issued on Monday. The brokerage presently has a "buy" rating on the stock. Jefferies Group's price target would indicate a potential upside of 14.78% from the stock's current price.
A number of other equities research analysts have also recently issued reports on the company. Panmure Gordon dropped their price objective on Senior plc from GBX 230 ($2.85) to GBX 186 ($2.30) and set a "hold" rating on the stock in a research note on Tuesday, July 26th. JPMorgan Chase & Co. reissued a "neutral" rating and set a GBX 220 ($2.72) target price on shares of Senior plc in a report on Tuesday, July 5th. Numis Securities Ltd reissued a "buy" rating and set a GBX 270 ($3.34) target price on shares of Senior plc in a report on Friday, August 12th. N+1 Singer reissued a "buy" rating on shares of Senior plc in a report on Wednesday, October 5th. Finally, Peel Hunt reissued a "buy" rating and set a GBX 230 ($2.85) target price on shares of Senior plc in a report on Monday, August 1st. One analyst has rated the stock with a sell rating, three have issued a hold rating and eight have issued a buy rating to the stock. The stock currently has a consensus rating of "Buy" and a consensus target price of GBX 244.17 ($3.02).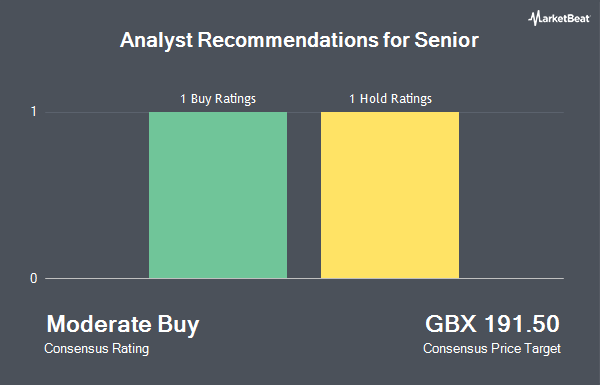 Shares of Senior plc (LON:SNR) opened at 211.20 on Monday. The stock has a 50 day moving average of GBX 231.28 and a 200 day moving average of GBX 219.46. The firm's market cap is GBX 884.50 million. Senior plc has a 52 week low of GBX 167.08 and a 52 week high of GBX 265.50.
This story is the sole property of American Banking News and it was originally published by American Banking News. If you are reading this story on another website, that means this article was illegally copied and re-published to this website in violation of U.S. and International copyright law. The original version of this article is available at https://www.americanbankingnews.com/2016/10/17/senior-plc-snr-price-target-increased-to-gbx-250-by-analysts-at-jefferies-group.html
The business also recently announced a dividend, which will be paid on Wednesday, November 30th. Stockholders of record on Thursday, October 20th will be issued a dividend of GBX 1.95 ($0.02) per share. This represents a dividend yield of 0.87%. The ex-dividend date is Thursday, October 20th.
In other news, insider Harding ,Derek sold 1,709 shares of the stock in a transaction on Monday, September 5th. The stock was sold at an average price of GBX 240 ($2.97), for a total transaction of £4,101.60 ($5,076.24).
About Senior plc
Senior plc is a United Kingdom-based holding company. The Company is an engineering solutions provider. The Company designs, manufactures and markets high-technology components and systems for the principal original equipment producers in the aerospace, defense, land vehicle and energy markets. It operates in two divisions: Aerospace and Flexonics.
Receive News & Ratings for Senior plc Daily - Enter your email address below to receive a concise daily summary of the latest news and analysts' ratings for Senior plc and related companies with MarketBeat.com's FREE daily email newsletter.