ALJ Regional Holdings Inc. (ALJJ) Insider Jess M. Ravich Sells 5,000 Shares
ALJ Regional Holdings Inc. (NASDAQ:ALJJ) insider Jess M. Ravich sold 5,000 shares of the business's stock in a transaction on Tuesday, October 18th. The shares were sold at an average price of $4.37, for a total value of $21,850.00. The sale was disclosed in a filing with the Securities & Exchange Commission, which is accessible through this hyperlink.
Shares of ALJ Regional Holdings Inc. (NASDAQ:ALJJ) traded up 0.69% during mid-day trading on Tuesday, hitting $4.39. The company's stock had a trading volume of 36,942 shares. The company has a market cap of $151.47 million, a price-to-earnings ratio of 18.07 and a beta of 1.21. ALJ Regional Holdings Inc. has a 52-week low of $3.80 and a 52-week high of $5.50. The stock's 50 day moving average price is $4.64 and its 200 day moving average price is $4.51.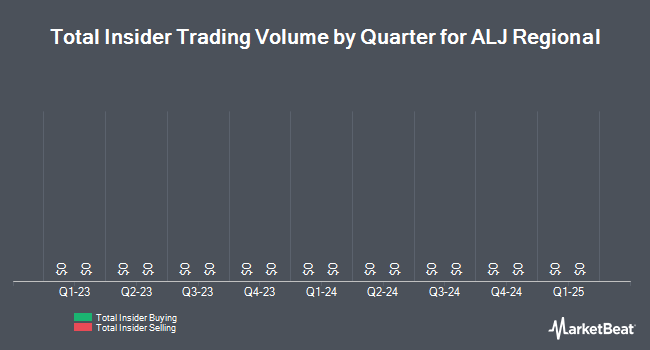 About ALJ Regional Holdings
This story is the sole property of American Banking News and it was originally published by American Banking News. If you are reading this story on another website, that means this article was illegally copied and re-published to this website in violation of U.S. and International copyright law. The original version of this article is available at https://www.americanbankingnews.com/2016/10/18/alj-regional-holdings-inc-aljj-insider-jess-m-ravich-sells-5000-shares-4.html
ALJ Regional Holdings, Inc is a holding company. The Company's segments include Faneuil, Carpets and Phoenix. The Faneuil segment offers clients customer relationship management; billing, payment and claims processing; data entry; document management; workforce and support analytics; quality assurance; system support and maintenance, and staffing services.
Receive News & Ratings for ALJ Regional Holdings Inc. Daily - Enter your email address below to receive a concise daily summary of the latest news and analysts' ratings for ALJ Regional Holdings Inc. and related companies with MarketBeat.com's FREE daily email newsletter.