Citigroup Inc. Boosts Hays plc (HAS) Price Target to GBX 137
Hays plc (LON:HAS) had its price target boosted by equities researchers at Citigroup Inc. from GBX 135 ($1.65) to GBX 137 ($1.67) in a report released on Tuesday. The brokerage presently has a "neutral" rating on the stock. Citigroup Inc.'s price target indicates a potential upside of 1.18% from the company's previous close.
A number of other equities research analysts have also commented on HAS. Credit Suisse Group AG upgraded Hays plc to a "neutral" rating and increased their price target for the stock from GBX 100 ($1.22) to GBX 125 ($1.52) in a research report on Friday, September 2nd. JPMorgan Chase & Co. upped their price objective on Hays plc from GBX 105 ($1.28) to GBX 110 ($1.34) and gave the stock a "neutral" rating in a report on Friday, July 15th. Deutsche Bank AG reaffirmed a "sell" rating and set a GBX 105 ($1.28) price objective on shares of Hays plc in a report on Sunday, September 4th. Numis Securities Ltd downgraded Hays plc to an "add" rating and reduced their price objective for the stock from GBX 155 ($1.89) to GBX 110 ($1.34) in a report on Wednesday, July 6th. Finally, Liberum Capital upped their price objective on Hays plc from GBX 130 ($1.58) to GBX 145 ($1.77) and gave the stock a "buy" rating in a report on Friday, September 23rd. Three investment analysts have rated the stock with a sell rating, seven have assigned a hold rating and seven have given a buy rating to the company's stock. Hays plc presently has an average rating of "Hold" and an average target price of GBX 137.88 ($1.68).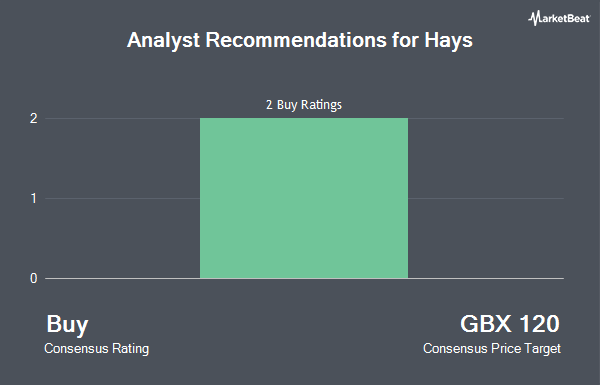 Hays plc (LON:HAS) opened at 137.80 on Tuesday. Hays plc has a one year low of GBX 91.10 and a one year high of GBX 151.00. The stock's market cap is GBX 1.97 billion. The stock's 50 day moving average price is GBX 133.06 and its 200-day moving average price is GBX 125.30.
This story is the sole property of American Banking News and it was originally published by American Banking News. If you are reading this story on another website, that means this article was illegally copied and re-published to this website in violation of U.S. and International copyright law. The original version of this article is available at http://www.americanbankingnews.com/2016/10/18/citigroup-inc-boosts-hays-plc-has-price-target-to-gbx-137.html
The company also recently announced a dividend, which will be paid on Friday, November 11th. Shareholders of record on Thursday, October 13th will be issued a dividend of GBX 1.99 ($0.02) per share. This represents a yield of 1.53%. The ex-dividend date is Thursday, October 13th. This is a boost from Hays plc's previous dividend of $0.91.
In other Hays plc news, insider Venables,Paul sold 106,238 shares of the stock in a transaction dated Tuesday, September 6th. The stock was sold at an average price of GBX 133 ($1.62), for a total transaction of £141,296.54 ($172,207.85).
About Hays plc
Hays plc is a United Kingdom-based recruitment company engaged in the provision of specialist recruitment activities. The Company's geographical segments include: Asia Pacific, Continental Europe & Rest of World, and United Kingdom & Ireland. The Company operates worldwide in 20 specialism, including accounting and finance, construction and property, information and technology (IT), sales and marketing, education, engineering and manufacturing, health and social care, legal, financial services, retail, executive, life sciences and human resources.
Receive News & Ratings for Hays plc Daily - Enter your email address below to receive a concise daily summary of the latest news and analysts' ratings for Hays plc and related companies with MarketBeat.com's FREE daily email newsletter.