Enerplus Corp (ERF) Given Buy Rating at TD Securities
Enerplus Corp (TSE:ERF)'s stock had its "buy" rating reissued by equities researchers at TD Securities in a research report issued to clients and investors on Tuesday. They presently have a C$12.50 target price on the stock. TD Securities' price target suggests a potential upside of 33.40% from the stock's current price.
Several other brokerages have also weighed in on ERF. Desjardins set a C$9.25 price objective on Enerplus Corp in a report on Tuesday, June 28th. Barclays PLC lifted their price objective on Enerplus Corp from C$10.00 to C$12.00 in a report on Friday, July 22nd. CIBC lifted their price objective on Enerplus Corp from C$10.50 to C$11.50 in a report on Wednesday, July 20th. Royal Bank Of Canada reissued an "outperform" rating and set a C$9.00 price objective on shares of Enerplus Corp in a report on Wednesday, June 22nd. Finally, Scotiabank lifted their price objective on Enerplus Corp from C$10.00 to C$11.00 and gave the stock a "sector perform" rating in a report on Monday, August 8th. Three investment analysts have rated the stock with a hold rating and eight have assigned a buy rating to the stock. The company has an average rating of "Buy" and a consensus target price of C$10.48.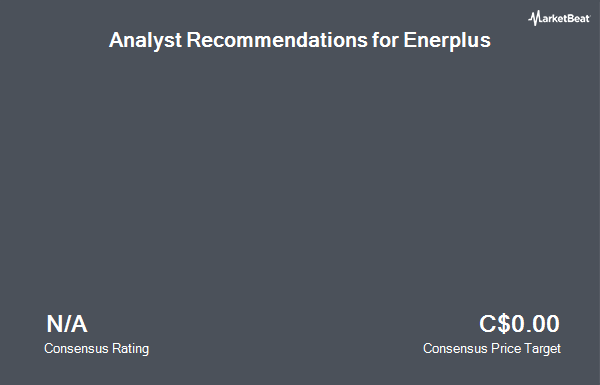 Shares of Enerplus Corp (TSE:ERF) traded up 2.508% on Tuesday, hitting $9.605. The stock had a trading volume of 1,426,606 shares. The firm has a 50 day moving average price of $8.75 and a 200-day moving average price of $7.87. Enerplus Corp has a 52 week low of $2.68 and a 52 week high of $10.06. The company's market cap is $2.31 billion.
This story is the sole property of American Banking News and it was originally published by American Banking News. If you are reading this story on another website, that means this article was illegally copied and re-published to this website in violation of U.S. and International copyright law. The original version of this article is available at https://www.americanbankingnews.com/2016/10/18/enerplus-corp-erf-pt-set-at-c12-50-by-td-securities.html
The firm also recently disclosed a oct 16 dividend, which was paid on Friday, October 14th. Shareholders of record on Thursday, September 29th were paid a $0.01 dividend. This represents a yield of 1.5%. The ex-dividend date of this dividend was Tuesday, September 27th.
Enerplus Corp Company Profile
Enerplus Corporation is an energy producer. The Company's capital program is focused on the development of its crude oil and natural gas core areas of operation, which includes its North Dakota and Montana crude oil assets in the Williston Basin, and its natural gas interests in northeast Pennsylvania.
Receive News & Ratings for Enerplus Corp Daily - Enter your email address below to receive a concise daily summary of the latest news and analysts' ratings for Enerplus Corp and related companies with MarketBeat.com's FREE daily email newsletter.