WSI Industries Inc. (WSCI) Issues Earnings Results
WSI Industries Inc. (NASDAQ:WSCI) released its earnings results on Tuesday. The company reported ($0.01) earnings per share (EPS) for the quarter. The firm earned $8.11 million during the quarter, compared to analyst estimates of $8.80 million. WSI Industries had a net margin of 0.51% and a return on equity of 1.31%.
WSI Industries (NASDAQ:WSCI) traded down 1.87% during trading on Tuesday, reaching $3.68. 16,354 shares of the company traded hands. The firm's 50 day moving average price is $3.59 and its 200 day moving average price is $3.20. The firm has a market capitalization of $10.74 million, a price-to-earnings ratio of 61.33 and a beta of 0.08. WSI Industries has a 12-month low of $2.73 and a 12-month high of $5.60.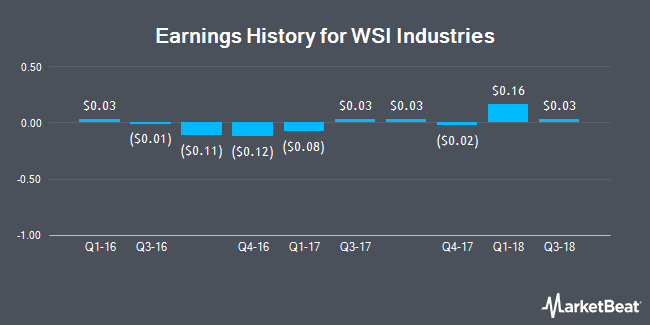 WSI Industries Company Profile
This story is the sole property of American Banking News and it was originally published by American Banking News. If you are reading this story on another website, that means this article was illegally copied and re-published to this website in violation of U.S. and International copyright law. The original version of this article is available at https://www.americanbankingnews.com/2016/10/18/wsi-industries-inc-wsci-issues-earnings-results.html
WSI Industries, Inc, is a United States of America-based company involved in performing precision contract machining for the aerospace, communication, and industrial markets. The major portions of Company revenues are derived from machining work for the aerospace/avionics/defense industries, recreational power-sports vehicles (ATV and motorcycle) markets, energy industry and bioscience industry.
Receive News & Ratings for WSI Industries Inc. Daily - Enter your email address below to receive a concise daily summary of the latest news and analysts' ratings for WSI Industries Inc. and related companies with MarketBeat.com's FREE daily email newsletter.