Galena Biopharma Inc (GALE) Upgraded to "Strong-Buy" by Zacks Investment Research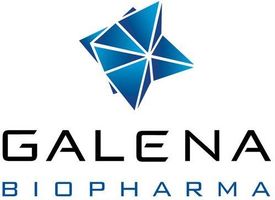 Galena Biopharma Inc (NASDAQ:GALE) was upgraded by Zacks Investment Research from a "hold" rating to a "strong-buy" rating in a research report issued on Monday. The brokerage currently has a $0.75 price target on the biotechnology company's stock. Zacks Investment Research's price target suggests a potential upside of 19.39% from the company's current price.
According to Zacks, "Galena Biopharma, Inc. is a biopharmaceutical company that develops innovative, targeted oncology treatments that address major unmet medical needs to advance cancer care. Galena Biopharma, Inc., formally known as RXi Pharmaceuticals Corporation, is based in Portland, Oregon. "
A number of other analysts have also recently commented on the company. FBR & Co cut Galena Biopharma from an "outperform" rating to a "market perform" rating and reduced their price objective for the company from $11.00 to $4.00 in a research report on Monday, February 6th. Maxim Group cut Galena Biopharma from a "buy" rating to a "hold" rating in a research report on Thursday, February 2nd. Four research analysts have rated the stock with a hold rating, one has issued a buy rating and one has given a strong buy rating to the stock. The company currently has an average rating of "Buy" and an average price target of $2.93.
This article was originally published by and is the sole property of American Banking News. If you happen to be reading this article on another website, it was stolen and illegally republished in violation of U.S. and International copyright law. The original version of this story can be read at https://www.americanbankingnews.com/2017/03/20/galena-biopharma-inc-gale-upgraded-to-strong-buy-by-zacks-investment-research.html
Shares of Galena Biopharma (NASDAQ:GALE) traded up 0.4638% during mid-day trading on Monday, hitting $0.6282. The stock had a trading volume of 2,821,941 shares. Galena Biopharma has a 12 month low of $0.53 and a 12 month high of $49.80. The company's market cap is $6.82 million. The stock's 50-day moving average is $0.86 and its 200 day moving average is $1.21.
Your IP Address:
In related news, major shareholder Hudson Bay Capital Management sold 2,363,441 shares of the stock in a transaction dated Wednesday, February 8th. The stock was sold at an average price of $0.84, for a total transaction of $1,985,290.44. The transaction was disclosed in a legal filing with the Securities & Exchange Commission, which is accessible through this link. Corporate insiders own 2.02% of the company's stock.
About Galena Biopharma
Galena Biopharma, Inc is a biopharmaceutical company. The Company focuses on developing and commercializing targeted oncology therapeutics that address unmet medical needs. The Company's development portfolio ranges from mid- to late-stage clinical assets, including cancer immunotherapy program led by NeuVax (nelipepimut-S), GALE-301 and GALE-302.
Get a free copy of the Zacks research report on Galena Biopharma (GALE)
For more information about research offerings from Zacks Investment Research, visit Zacks.com
Receive News & Ratings for Galena Biopharma Inc Daily - Enter your email address below to receive a concise daily summary of the latest news and analysts' ratings for Galena Biopharma Inc and related companies with MarketBeat.com's FREE daily email newsletter.