Steelcase Inc. (SCS) Set to Announce Earnings on Tuesday

Steelcase Inc. (NYSE:SCS) is scheduled to be issuing its quarterly earnings data after the market closes on Tuesday, March 21st. Analysts expect the company to announce earnings of $0.23 per share for the quarter.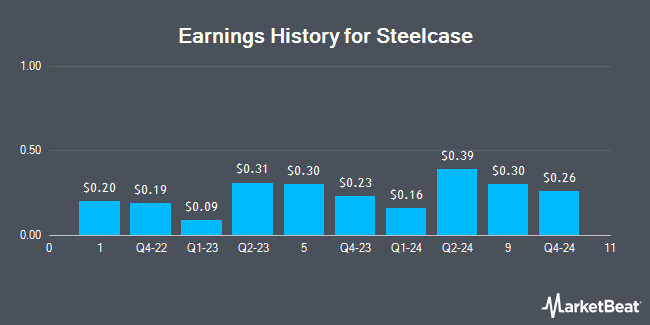 Shares of Steelcase Inc. (NYSE:SCS) opened at 16.80 on Monday. Steelcase Inc. has a 52 week low of $12.67 and a 52 week high of $18.14. The stock has a market cap of $1.97 billion, a P/E ratio of 11.67 and a beta of 1.16. The stock has a 50 day moving average price of $16.38 and a 200-day moving average price of $15.45.
In other news, VP Allan W. Smith, Jr. sold 5,632 shares of Steelcase stock in a transaction dated Friday, December 23rd. The stock was sold at an average price of $17.55, for a total transaction of $98,841.60. Following the sale, the vice president now owns 18,899 shares in the company, valued at $331,677.45. The transaction was disclosed in a legal filing with the Securities & Exchange Commission, which can be accessed through the SEC website. 18.68% of the stock is currently owned by insiders.
This article was originally published by and is the sole property of American Banking News. If you happen to be reading this article on another website, it was stolen and illegally republished in violation of U.S. and International copyright law. The original version of this story can be read at https://www.americanbankingnews.com/2017/03/20/steelcase-inc-scs-set-to-announce-earnings-on-tuesday.html
Separately, Zacks Investment Research cut Steelcase from a "buy" rating to a "hold" rating in a research report on Tuesday, February 21st.
Your IP Address:
Steelcase Company Profile
Steelcase Inc provides an integrated portfolio of furniture settings, user-centered technologies and interior architectural products. The Company's segments include Americas, EMEA and Other Category. The Company's furniture portfolio includes panel-based and freestanding furniture systems and complementary products, such as storage, tables and ergonomic worktools.
Receive News & Ratings for Steelcase Inc. Daily - Enter your email address below to receive a concise daily summary of the latest news and analysts' ratings for Steelcase Inc. and related companies with MarketBeat.com's FREE daily email newsletter.