1st Constitution Bancorp (fccy) Announces Quarterly Dividend of $0.05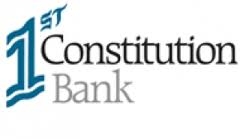 1st Constitution Bancorp (NASDAQ:fccy) announced a quarterly dividend on Monday, March 20th. Shareholders of record on Monday, April 3rd will be paid a dividend of 0.05 per share by the financial services provider on Tuesday, April 25th. This represents a $0.20 dividend on an annualized basis and a yield of 1.08%. The ex-dividend date of this dividend is Thursday, March 30th.
Shares of 1st Constitution Bancorp (NASDAQ:FCCY) opened at 18.50 on Tuesday. The firm's 50-day moving average price is $18.38 and its 200-day moving average price is $15.88. 1st Constitution Bancorp has a 12 month low of $11.70 and a 12 month high of $20.85. The firm has a market capitalization of $147.87 million, a price-to-earnings ratio of 16.23 and a beta of 0.31.
1st Constitution Bancorp (NASDAQ:FCCY) last posted its quarterly earnings data on Thursday, February 2nd. The financial services provider reported $0.25 EPS for the quarter, topping analysts' consensus estimates of $0.21 by $0.04. 1st Constitution Bancorp had a return on equity of 9.16% and a net margin of 19.45%. On average, equities analysts anticipate that 1st Constitution Bancorp will post $1.15 earnings per share for the current year.
This article was originally published by and is the sole property of American Banking News. If you happen to be reading this article on another website, it was stolen and illegally republished in violation of U.S. and International copyright law. The original version of this story can be read at https://www.americanbankingnews.com/2017/03/21/1st-constitution-bancorp-fccy-announces-quarterly-dividend-of-0-05.html
Your IP Address:
About 1st Constitution Bancorp
1st Constitution Bancorp is the bank holding company for 1st Constitution Bank (the Bank). The Bank is a commercial bank, which is engaged in the business of commercial and retail banking. The Company operates through the Community Banking segment. The Community Banking segment consists of construction, commercial, retail and mortgage banking operations.
Receive News & Ratings for 1st Constitution Bancorp Daily - Enter your email address below to receive a concise daily summary of the latest news and analysts' ratings for 1st Constitution Bancorp and related companies with MarketBeat.com's FREE daily email newsletter.