AutoCanada Inc. (ACQ) Receives Outperform Rating from AltaCorp Capital

AutoCanada Inc. (TSE:ACQ)'s stock had its "outperform" rating restated by analysts at AltaCorp Capital in a note issued to investors on Monday.
ACQ has been the subject of a number of other reports. Royal Bank of Canada reissued a "sector perform" rating and set a C$26.00 target price on shares of AutoCanada in a research note on Wednesday, March 15th. Scotiabank reissued a "sector perform" rating and set a C$22.00 target price on shares of AutoCanada in a research note on Friday. Finally, CIBC cut their target price on AutoCanada from C$22.00 to C$20.00 in a research note on Monday. One investment analyst has rated the stock with a sell rating, three have given a hold rating and two have issued a buy rating to the company. The stock presently has an average rating of "Hold" and a consensus target price of C$22.40.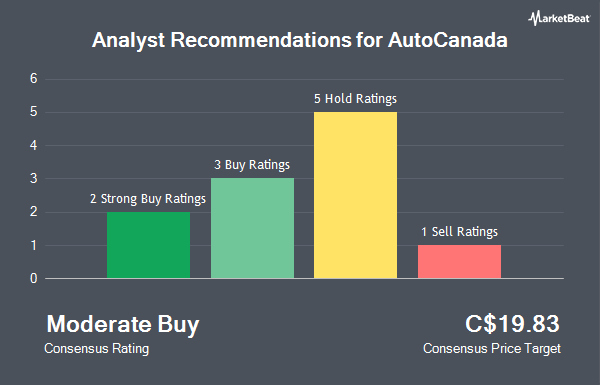 AutoCanada (TSE:ACQ) opened at 21.36 on Monday. AutoCanada has a 1-year low of $16.10 and a 1-year high of $27.90. The firm's 50-day moving average price is $24.27 and its 200-day moving average price is $23.18. The firm's market cap is $584.13 million.
This article was originally published by and is the sole property of American Banking News. If you happen to be reading this article on another website, it was stolen and illegally republished in violation of U.S. and International copyright law. The original version of this story can be read at https://www.americanbankingnews.com/2017/03/21/autocanada-inc-acq-receives-outperform-rating-from-altacorp-capital.html
The company also recently disclosed a quarterly dividend, which was paid on Wednesday, March 15th. Investors of record on Wednesday, March 15th were paid a $0.10 dividend. This represents a $0.40 annualized dividend and a yield of 1.87%. The ex-dividend date was Friday, February 24th.
Your IP Address:
About AutoCanada
AutoCanada Inc (AutoCanada) is a Canada-based multi-location automobile dealership company. The Company offers a diversified range of automotive products and services, including new vehicles, used vehicles, vehicle leasing, vehicle parts, vehicle maintenance and collision repair services, extended service contracts, vehicle protection products and other after-market products.
Receive News & Ratings for AutoCanada Inc. Daily - Enter your email address below to receive a concise daily summary of the latest news and analysts' ratings for AutoCanada Inc. and related companies with MarketBeat.com's FREE daily email newsletter.