Premier Oil PLC (PMO) Receives "Speculative Buy" Rating from GMP Securities
GMP Securities restated their speculative buy rating on shares of Premier Oil PLC (LON:PMO) in a research note issued to investors on Wednesday morning.
Several other research firms have also weighed in on PMO. Deutsche Bank AG reaffirmed a hold rating on shares of Premier Oil PLC in a report on Wednesday, January 4th. Jefferies Group LLC cut their price target on shares of Premier Oil PLC from GBX 106 ($1.31) to GBX 90 ($1.11) and set a buy rating for the company in a report on Monday, March 13th. Macquarie lowered shares of Premier Oil PLC to a neutral rating and cut their price target for the stock from GBX 103 ($1.27) to GBX 80 ($0.99) in a report on Thursday, January 5th. Barclays PLC lowered shares of Premier Oil PLC to an equal weight rating and set a GBX 100 ($1.24) price target for the company. in a report on Sunday, January 15th. Finally, Davy Research reissued a neutral rating on shares of Premier Oil PLC in a report on Thursday, November 17th. Two equities research analysts have rated the stock with a sell rating, six have assigned a hold rating and seven have given a buy rating to the stock. The stock presently has a consensus rating of Hold and an average target price of GBX 92.75 ($1.15).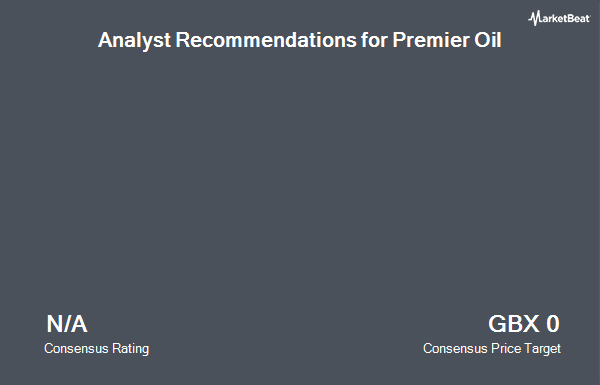 Shares of Premier Oil PLC (LON:PMO) opened at 66.125 on Wednesday. The stock has a 50 day moving average of GBX 72.97 and a 200 day moving average of GBX 70.93. Premier Oil PLC has a 12-month low of GBX 38.15 and a 12-month high of GBX 99.50. The company's market cap is GBX 337.77 million.
This article was originally published by and is the sole property of American Banking News. If you happen to be reading this article on another website, it was stolen and illegally republished in violation of U.S. and International copyright law. The original version of this story can be read at https://www.americanbankingnews.com/2017/03/21/premier-oil-plc-pmo-receives-speculative-buy-rating-from-gmp-securities-2.html
Your IP Address:
About Premier Oil PLC
Premier Oil plc is an independent exploration and production company with oil and gas interests in the North Sea, South East Asia, Pakistan, the Falkland Islands and Latin America. The Company is engaged in the business of upstream oil and gas exploration and production. The Company's operations are located and managed in six business units: the Falkland Islands, Indonesia, Pakistan (including Mauritania), the United Kingdom, Vietnam and the Rest of the World.
Receive News & Ratings for Premier Oil PLC Daily - Enter your email address below to receive a concise daily summary of the latest news and analysts' ratings for Premier Oil PLC and related companies with MarketBeat.com's FREE daily email newsletter.