Shore Bancshares, Inc. (SHBI) Declares $0.05 Quarterly Dividend

Shore Bancshares, Inc. (NASDAQ:SHBI) declared a quarterly dividend on Thursday, May 4th. Stockholders of record on Monday, May 15th will be given a dividend of 0.05 per share by the bank on Wednesday, May 31st. This represents a $0.20 dividend on an annualized basis and a dividend yield of 1.22%. The ex-dividend date of this dividend is Thursday, May 11th.
Shore Bancshares (NASDAQ:SHBI) traded up 1.10% on Thursday, hitting $16.59. The stock had a trading volume of 26,076 shares. The stock's 50-day moving average is $16.68 and its 200 day moving average is $15.63. The firm has a market capitalization of $210.25 million, a price-to-earnings ratio of 21.05 and a beta of 0.35. Shore Bancshares has a 1-year low of $10.23 and a 1-year high of $17.92.
Shore Bancshares (NASDAQ:SHBI) last issued its quarterly earnings results on Thursday, April 20th. The bank reported $0.22 earnings per share (EPS) for the quarter, missing analysts' consensus estimates of $0.23 by $0.01. The business had revenue of $14.74 million for the quarter. Shore Bancshares had a return on equity of 6.32% and a net margin of 16.82%. On average, equities research analysts predict that Shore Bancshares will post $0.95 earnings per share for the current fiscal year.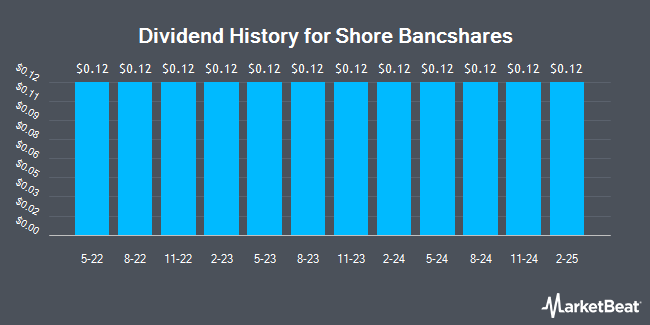 TRADEMARK VIOLATION WARNING: This piece was originally reported by American Banking News and is owned by of American Banking News. If you are accessing this piece on another site, it was illegally stolen and republished in violation of international copyright laws. The original version of this piece can be viewed at https://www.americanbankingnews.com/2017/05/04/shore-bancshares-inc-shbi-declares-0-05-quarterly-dividend.html.
Shore Bancshares Company Profile
Shore Bancshares, Inc is a financial holding company. The Company acts as the parent company to several financial institution and insurance entities. The Company has two business segments: Community Banking, and Insurance Products and Services. Its Community Banking segment provides services to consumers and small businesses on the Eastern Shore of Maryland and in Delaware.
Receive News & Ratings for Shore Bancshares Inc. Daily - Enter your email address below to receive a concise daily summary of the latest news and analysts' ratings for Shore Bancshares Inc. and related companies with MarketBeat.com's FREE daily email newsletter.