Chiasma Inc (CHMA) Issues Earnings Results

Chiasma Inc (NASDAQ:CHMA) announced its earnings results on Friday. The biotechnology company reported ($0.29) EPS for the quarter, missing the Thomson Reuters' consensus estimate of ($0.23) by $0.06.
Shares of Chiasma (NASDAQ:CHMA) traded up 6.67% during mid-day trading on Monday, reaching $1.60. The company had a trading volume of 146,230 shares. The stock has a 50 day moving average price of $1.61 and a 200 day moving average price of $1.89. Chiasma has a 12-month low of $1.45 and a 12-month high of $3.71. The firm's market capitalization is $38.97 million.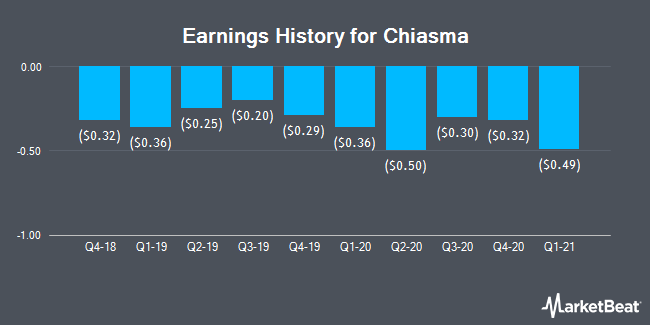 Several brokerages recently commented on CHMA. Zacks Investment Research cut Chiasma from a "buy" rating to a "hold" rating in a report on Tuesday, January 17th. Barclays PLC cut Chiasma from an "equal weight" rating to an "underweight" rating in a report on Tuesday, January 17th.
ILLEGAL ACTIVITY NOTICE: This article was first published by American Banking News and is owned by of American Banking News. If you are reading this article on another domain, it was copied illegally and reposted in violation of United States and international copyright & trademark laws. The correct version of this article can be read at https://www.americanbankingnews.com/2017/05/08/chiasma-inc-chma-issues-earnings-results.html.
About Chiasma
Chiasma, Inc is a biopharmaceutical company. The Company is engaged in developing and commercializing oral forms of therapies that are available only by injection. Using its Transient Permeability Enhancer (TPE) technology platform, the Company is developing oral therapies. The Company has completed a Phase III clinical trial of its TPE platform-based product candidate, oral octreotide capsules (trade named as MYCAPSSA) for the treatment of acromegaly, a condition that results in the body's production of excess growth hormone.
Receive News & Ratings for Chiasma Inc Daily - Enter your email address below to receive a concise daily summary of the latest news and analysts' ratings for Chiasma Inc and related companies with MarketBeat.com's FREE daily email newsletter.