Five Oaks Investment Corp (OAKS) Issues Earnings Results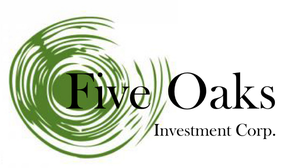 Five Oaks Investment Corp (NYSE:OAKS) issued its earnings results on Wednesday. The real estate investment trust reported $0.15 EPS for the quarter, missing the Zacks' consensus estimate of $0.20 by $0.05. Five Oaks Investment Corp had a negative net margin of 16.65% and a positive return on equity of 11.27%. The business had revenue of $5.78 million during the quarter.
Five Oaks Investment Corp (NYSE:OAKS) traded down 2.482% during midday trading on Thursday, reaching $5.305. 241,953 shares of the company traded hands. The firm has a 50 day moving average of $5.26 and a 200-day moving average of $5.22. Five Oaks Investment Corp has a 12 month low of $4.52 and a 12 month high of $6.19. The stock's market capitalization is $93.04 million.
The company also recently declared a monthly dividend, which was paid on Thursday, April 27th. Investors of record on Monday, April 17th were paid a dividend of $0.05 per share. This represents a $0.60 annualized dividend and a yield of 11.32%. The ex-dividend date of this dividend was Wednesday, April 12th. Five Oaks Investment Corp's dividend payout ratio (DPR) is -44.78%.
Separately, JMP Securities downgraded shares of Five Oaks Investment Corp from a "mkt outperform" rating to a "market perform" rating in a research note on Thursday, March 30th.
TRADEMARK VIOLATION WARNING: This piece was originally posted by American Banking News and is owned by of American Banking News. If you are accessing this piece on another domain, it was copied illegally and reposted in violation of United States & international copyright laws. The correct version of this piece can be read at https://www.americanbankingnews.com/2017/05/11/five-oaks-investment-corp-oaks-issues-earnings-results.html.
About Five Oaks Investment Corp
Five Oaks Investment Corp. is a real estate investment trust. The Company is focused on investing on a leveraged basis in mortgage and other real estate-related assets, particularly residential mortgage loans and mortgage-backed securities (MBS). The Company invests in various assets, such as Agency residential MBS (RMBS); securitizations backed by multi-family mortgage loans, or Multi-Family MBS; residential mortgage loans and other mortgage-related investments, including mortgage servicing rights (MSRs), and Non-Agency RMBS.
Receive News & Ratings for Five Oaks Investment Corp Daily - Enter your email address below to receive a concise daily summary of the latest news and analysts' ratings for Five Oaks Investment Corp and related companies with MarketBeat.com's FREE daily email newsletter.