Cancer Genetics Inc (CGIX) Releases Earnings Results, Beats Estimates By $0.07 EPS
Cancer Genetics Inc (NASDAQ:CGIX) posted its quarterly earnings results on Thursday. The medical research company reported ($0.11) earnings per share for the quarter, topping the consensus estimate of ($0.18) by $0.07. The business had revenue of $7 million during the quarter, compared to the consensus estimate of $7.62 million. Cancer Genetics had a negative net margin of 74.07% and a negative return on equity of 63.26%. The firm's revenue for the quarter was up 14.8% on a year-over-year basis. During the same period in the previous year, the firm posted ($0.39) earnings per share.
Cancer Genetics (NASDAQ:CGIX) traded down 9.878% during mid-day trading on Friday, reaching $3.695. 175,572 shares of the company's stock traded hands. The stock has a 50-day moving average price of $3.91 and a 200-day moving average price of $2.36. Cancer Genetics has a 12-month low of $1.10 and a 12-month high of $5.30. The stock's market capitalization is $69.96 million.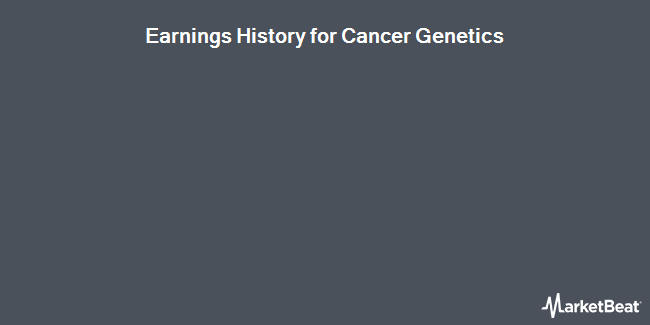 COPYRIGHT VIOLATION NOTICE: "Cancer Genetics Inc (CGIX) Releases Earnings Results, Beats Estimates By $0.07 EPS" was originally posted by American Banking News and is the property of of American Banking News. If you are reading this report on another domain, it was copied illegally and republished in violation of US and international copyright & trademark legislation. The legal version of this report can be accessed at https://www.americanbankingnews.com/2017/05/12/cancer-genetics-inc-cgix-releases-earnings-results-beats-estimates-by-0-07-eps.html.
Several analysts have weighed in on the stock. HC Wainwright reissued a "buy" rating and issued a $6.00 price target on shares of Cancer Genetics in a research note on Monday, March 27th. Zacks Investment Research downgraded shares of Cancer Genetics from a "buy" rating to a "hold" rating in a research note on Wednesday, February 8th.
About Cancer Genetics
Cancer Genetics, Inc is a United States-based company, which is engaged in the field of personalized medicine. The Company offers diagnostic products and services that enable precision medicine in the field of oncology through molecular markers and diagnostics. The Company offers a range of laboratory services that provide genomic and biomarker information.
Receive News & Ratings for Cancer Genetics Inc Daily - Enter your email address below to receive a concise daily summary of the latest news and analysts' ratings for Cancer Genetics Inc and related companies with MarketBeat.com's FREE daily email newsletter.