Minerals Technologies Inc (MTX) Announces $0.05 Quarterly Dividend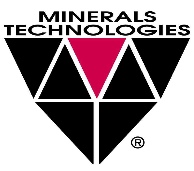 Minerals Technologies Inc (NYSE:MTX) announced a quarterly dividend on Tuesday, May 16th. Shareholders of record on Wednesday, May 31st will be paid a dividend of 0.05 per share by the basic materials company on Friday, June 9th. This represents a $0.20 dividend on an annualized basis and a yield of 0.27%.
Minerals Technologies has a dividend payout ratio of 4.2% indicating that its dividend is sufficiently covered by earnings. Equities research analysts expect Minerals Technologies to earn $5.19 per share next year, which means the company should continue to be able to cover its $0.20 annual dividend with an expected future payout ratio of 3.9%.
Shares of Minerals Technologies (NYSE:MTX) remained flat at $74.30 during midday trading on Tuesday. 5,881 shares of the company's stock were exchanged. The stock's 50 day moving average is $76.41 and its 200 day moving average is $76.77. Minerals Technologies has a one year low of $51.29 and a one year high of $83.85. The stock has a market cap of $2.61 billion, a PE ratio of 19.60 and a beta of 2.04.
Minerals Technologies (NYSE:MTX) last announced its quarterly earnings data on Thursday, May 4th. The basic materials company reported $1.07 EPS for the quarter, beating the Thomson Reuters' consensus estimate of $1.04 by $0.03. The firm had revenue of $405 million for the quarter, compared to the consensus estimate of $401.63 million. Minerals Technologies had a net margin of 8.14% and a return on equity of 15.57%. The company's revenue was down 1.3% on a year-over-year basis. During the same period last year, the firm earned $1.02 EPS. On average, equities analysts anticipate that Minerals Technologies will post $4.72 EPS for the current year.
MTX has been the topic of several recent analyst reports. Zacks Investment Research upgraded shares of Minerals Technologies from a "sell" rating to a "hold" rating in a research report on Wednesday, April 26th. JPMorgan Chase & Co. upgraded shares of Minerals Technologies from a "neutral" rating to an "overweight" rating and set a $80.00 price objective on the stock in a research report on Friday, March 24th. They noted that the move was a valuation call.
COPYRIGHT VIOLATION WARNING: This piece was reported by American Banking News and is owned by of American Banking News. If you are viewing this piece on another publication, it was illegally stolen and republished in violation of U.S. and international copyright & trademark laws. The legal version of this piece can be read at https://www.americanbankingnews.com/2017/05/16/minerals-technologies-inc-mtx-announces-0-05-quarterly-dividend.html.
In other Minerals Technologies news, insider Douglas W. Mayger sold 790 shares of Minerals Technologies stock in a transaction on Wednesday, February 15th. The shares were sold at an average price of $79.08, for a total value of $62,473.20. Following the sale, the insider now directly owns 31,554 shares in the company, valued at approximately $2,495,290.32. The sale was disclosed in a legal filing with the SEC, which is accessible through this hyperlink. Insiders own 3.70% of the company's stock.
An institutional investor recently bought a new position in Minerals Technologies stock. Renaissance Technologies LLC acquired a new position in Minerals Technologies Inc (NYSE:MTX) during the first quarter, according to its most recent 13F filing with the Securities and Exchange Commission (SEC). The fund acquired 11,900 shares of the basic materials company's stock, valued at approximately $912,000. Institutional investors and hedge funds own 96.28% of the company's stock.
Minerals Technologies Company Profile
Minerals Technologies Inc is a resource- and technology-based company that develops, produces and markets a range of specialty mineral, mineral-based and synthetic mineral products and supporting systems and services around the world. It operates through five segments. The Specialty Minerals produces and sells the synthetic mineral product precipitated calcium carbonate (PCC) and processed mineral product quicklime (lime).
Receive News & Ratings for Minerals Technologies Inc Daily - Enter your email address below to receive a concise daily summary of the latest news and analysts' ratings for Minerals Technologies Inc and related companies with MarketBeat.com's FREE daily email newsletter.