General Cable Co. (BGC) to Issue Quarterly Dividend of $0.18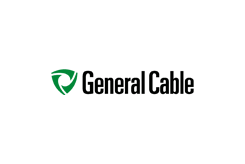 General Cable Co. (NYSE:BGC) announced a quarterly dividend on Thursday, May 18th. Stockholders of record on Friday, June 9th will be paid a dividend of 0.18 per share by the industrial products company on Friday, June 30th. This represents a $0.72 dividend on an annualized basis and a dividend yield of 4.65%.
General Cable has raised its dividend payment by an average of 10.1% annually over the last three years.
Shares of General Cable (NYSE:BGC) traded down 0.64% during mid-day trading on Thursday, hitting $15.50. The stock had a trading volume of 821,685 shares. General Cable has a 12 month low of $11.65 and a 12 month high of $20.80. The firm has a 50 day moving average price of $17.42 and a 200-day moving average price of $17.81. The stock's market cap is $769.28 million.
General Cable (NYSE:BGC) last issued its earnings results on Wednesday, May 3rd. The industrial products company reported $0.27 earnings per share for the quarter, beating the consensus estimate of $0.16 by $0.11. The company had revenue of $918.20 million during the quarter, compared to analysts' expectations of $895.58 million. General Cable had a positive return on equity of 25.38% and a negative net margin of 2.47%. General Cable's quarterly revenue was down 8.4% compared to the same quarter last year. During the same period in the prior year, the business posted $0.19 EPS. On average, equities research analysts forecast that General Cable will post $1.08 EPS for the current year.
WARNING: This report was first published by American Banking News and is the sole property of of American Banking News. If you are viewing this report on another domain, it was stolen and reposted in violation of US & international trademark and copyright law. The original version of this report can be accessed at https://www.americanbankingnews.com/2017/05/18/general-cable-co-bgc-to-issue-quarterly-dividend-of-0-18.html.
A hedge fund recently raised its stake in General Cable stock. State Street Corp increased its stake in shares of General Cable Co. (NYSE:BGC) by 5.5% during the first quarter, according to its most recent Form 13F filing with the SEC. The fund owned 1,194,415 shares of the industrial products company's stock after buying an additional 62,580 shares during the period. State Street Corp owned approximately 2.41% of General Cable worth $21,441,000 at the end of the most recent quarter. 99.89% of the stock is currently owned by institutional investors.
About General Cable
General Cable Corporation is engaged in the development, design, manufacture, marketing and distribution of copper, aluminum and fiber optic wire and cable products for use in the energy, industrial, construction, specialty and communications markets. The Company's segments include North America, Europe, Latin America, and Africa/Asia Pacific.
Receive News & Ratings for General Cable Co. Daily - Enter your email address below to receive a concise daily summary of the latest news and analysts' ratings for General Cable Co. and related companies with MarketBeat.com's FREE daily email newsletter.