Tarsus Group plc (TRS) Upgraded to "Buy" by Peel Hunt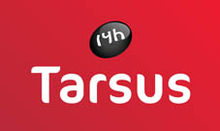 Tarsus Group plc (LON:TRS) was upgraded by research analysts at Peel Hunt to a "buy" rating in a research note issued to investors on Wednesday. The brokerage currently has a GBX 320 ($4.13) target price on the stock. Peel Hunt's price objective suggests a potential upside of 8.75% from the company's current price.
Separately, Liberum Capital reaffirmed a "buy" rating and issued a GBX 375 ($4.84) price objective on shares of Tarsus Group plc in a report on Wednesday, March 1st.
Tarsus Group plc (LON:TRS) traded up 0.60% during trading on Wednesday, reaching GBX 294.25. The company had a trading volume of 2,052,798 shares. Tarsus Group plc has a 1-year low of GBX 234.88 and a 1-year high of GBX 301.75. The stock's market capitalization is GBX 329.98 million. The firm has a 50-day moving average of GBX 289.19 and a 200-day moving average of GBX 274.19.
The firm also recently disclosed a dividend, which will be paid on Thursday, July 6th. Shareholders of record on Thursday, May 25th will be issued a GBX 6.40 ($0.08) dividend. This represents a yield of 2.29%. The ex-dividend date of this dividend is Thursday, May 25th. This is a positive change from Tarsus Group plc's previous dividend of $2.70.
COPYRIGHT VIOLATION WARNING: This article was originally posted by American Banking News and is owned by of American Banking News. If you are viewing this article on another publication, it was copied illegally and republished in violation of United States and international copyright legislation. The original version of this article can be read at https://www.americanbankingnews.com/2017/05/18/tarsus-group-plc-trs-upgraded-to-buy-by-peel-hunt.html.
In other Tarsus Group plc news, insider Dan O'Brien sold 29,130 shares of Tarsus Group plc stock in a transaction that occurred on Monday, March 6th. The stock was sold at an average price of GBX 276 ($3.56), for a total value of £80,398.80 ($103,780.56).
About Tarsus Group plc
Tarsus Group plc is an integrated media group primarily engaged in exhibitions, along with associated conferences, publishing, education and Internet activities. The principal activity of the Company is the holding of investments. The Company operates through three segments: EMEA, Americas, and Asia.
Receive News & Ratings for Tarsus Group plc Daily - Enter your email address below to receive a concise daily summary of the latest news and analysts' ratings for Tarsus Group plc and related companies with MarketBeat.com's FREE daily email newsletter.