CONMED Co. (CNMD) Plans $0.20 Quarterly Dividend
CONMED Co. (NASDAQ:CNMD) announced a quarterly dividend on Wednesday, May 24th. Stockholders of record on Thursday, June 15th will be paid a dividend of 0.20 per share by the medical technology company on Wednesday, July 5th. This represents a $0.80 annualized dividend and a dividend yield of 1.61%.
Shares of CONMED (NASDAQ:CNMD) traded down 0.30% during mid-day trading on Wednesday, hitting $49.66. 49,921 shares of the stock traded hands. The firm has a 50 day moving average of $48.28 and a 200 day moving average of $44.75. The company has a market cap of $1.38 billion, a P/E ratio of 113.12 and a beta of 0.77. CONMED has a 12 month low of $37.60 and a 12 month high of $51.50.
CONMED (NASDAQ:CNMD) last posted its quarterly earnings results on Wednesday, April 26th. The medical technology company reported $0.38 earnings per share for the quarter, topping the Thomson Reuters' consensus estimate of $0.35 by $0.03. The firm had revenue of $186.57 million for the quarter, compared to the consensus estimate of $181.47 million. CONMED had a net margin of 1.92% and a return on equity of 8.38%. The company's revenue for the quarter was up 3.0% on a year-over-year basis. During the same period last year, the firm posted $0.42 earnings per share. Equities analysts anticipate that CONMED will post $1.87 EPS for the current fiscal year.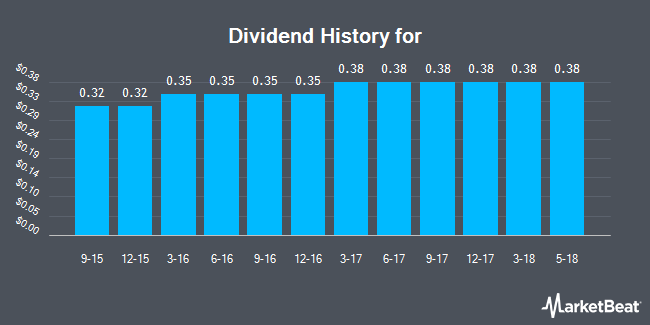 In other news, CEO Curt R. Hartman bought 8,030 shares of CONMED stock in a transaction on Friday, March 10th. The shares were bought at an average cost of $40.11 per share, with a total value of $322,083.30. Following the completion of the purchase, the chief executive officer now directly owns 36,470 shares of the company's stock, valued at $1,462,811.70. The purchase was disclosed in a filing with the Securities & Exchange Commission, which can be accessed through the SEC website. Also, EVP Daniel Jonas sold 3,000 shares of CONMED stock in a transaction dated Monday, May 15th. The stock was sold at an average price of $51.22, for a total transaction of $153,660.00. Following the transaction, the executive vice president now directly owns 14,455 shares in the company, valued at $740,385.10. The disclosure for this sale can be found here. Insiders have acquired 13,650 shares of company stock worth $553,427 over the last ninety days. 1.91% of the stock is owned by insiders.
A hedge fund recently raised its stake in CONMED stock. Teachers Advisors LLC boosted its position in CONMED Co. (NASDAQ:CNMD) by 3.8% during the first quarter, according to its most recent filing with the Securities and Exchange Commission. The fund owned 46,825 shares of the medical technology company's stock after buying an additional 1,702 shares during the period. Teachers Advisors LLC owned about 0.17% of CONMED worth $2,079,000 at the end of the most recent reporting period.
Several research firms have recently weighed in on CNMD. Needham & Company LLC reissued a "buy" rating and issued a $48.00 price target on shares of CONMED in a research note on Thursday, February 2nd. Ladenburg Thalmann Financial Services downgraded shares of CONMED from a "buy" rating to a "neutral" rating and decreased their price target for the stock from $50.00 to $48.00 in a research note on Thursday, April 27th. Finally, Zacks Investment Research raised shares of CONMED from a "sell" rating to a "hold" rating in a research note on Friday, April 28th.
TRADEMARK VIOLATION NOTICE: This news story was posted by American Banking News and is the sole property of of American Banking News. If you are viewing this news story on another site, it was copied illegally and reposted in violation of United States & international copyright & trademark legislation. The original version of this news story can be viewed at https://www.americanbankingnews.com/2017/05/24/conmed-co-cnmd-plans-0-20-quarterly-dividend.html.
About CONMED
CONMED Corporation is a medical technology company. The Company is engaged in the development, manufacturing and sale on a global basis of surgical devices and related equipment. The Company provides surgical devices and equipment for minimally invasive procedures. The Company's products are used by surgeons and physicians in a range of specialties, including orthopedics, general surgery, gynecology, neurosurgery and gastroenterology.
Receive News & Ratings for CONMED Co. Daily - Enter your email address below to receive a concise daily summary of the latest news and analysts' ratings for CONMED Co. and related companies with MarketBeat.com's FREE daily email newsletter.