Ian Sutherland Acquires 900 Shares of MCAN Mortgage Co. (MKP) Stock
MCAN Mortgage Co. (TSE:MKP) insider Ian Sutherland purchased 900 shares of the stock in a transaction dated Wednesday, May 24th. The stock was acquired at an average cost of C$13.98 per share, with a total value of C$12,582.00.
Ian Sutherland also recently made the following trade(s):
On Thursday, May 25th, Ian Sutherland bought 4,100 shares of MCAN Mortgage stock. The shares were purchased at an average cost of C$13.99 per share, with a total value of C$57,359.00.
MCAN Mortgage Co. (TSE:MKP) traded down 0.14% during midday trading on Thursday, reaching $13.96. 35,108 shares of the company were exchanged. The firm has a 50-day moving average price of $14.45 and a 200-day moving average price of $14.59. MCAN Mortgage Co. has a 52 week low of $13.10 and a 52 week high of $15.35. The company has a market capitalization of $323.13 million and a PE ratio of 7.98.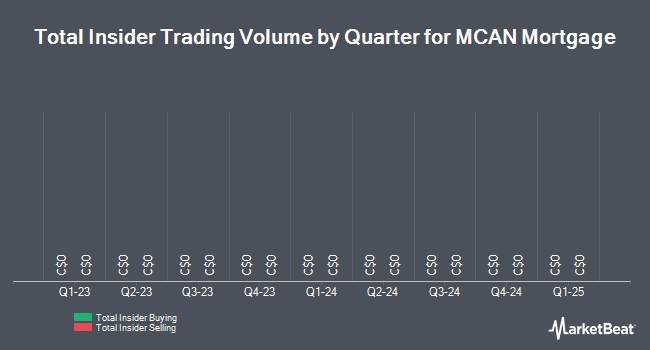 TRADEMARK VIOLATION WARNING: This piece was originally reported by American Banking News and is owned by of American Banking News. If you are accessing this piece on another site, it was illegally stolen and republished in violation of US and international trademark and copyright laws. The original version of this piece can be read at https://www.americanbankingnews.com/2017/05/25/ian-sutherland-acquires-900-shares-of-mcan-mortgage-co-mkp-stock.html.
About MCAN Mortgage
MCAN Mortgage Corporation (MCAN) is a Canada-based loan company and mortgage investment corporation. The Company's primary objective is to generate income by investing its corporate funds in a portfolio of mortgages (including single family residential, residential construction, non-residential construction and commercial loans), as well as other types of financial investments, loans and real estate investments.
Receive News & Ratings for MCAN Mortgage Co. Daily - Enter your email address below to receive a concise daily summary of the latest news and analysts' ratings for MCAN Mortgage Co. and related companies with MarketBeat.com's FREE daily email newsletter.