Eurasia Mining plc (EUA) Rating Reiterated by Beaufort Securities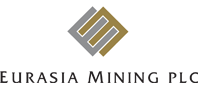 Eurasia Mining plc (LON:EUA)'s stock had its "speculative buy" rating reiterated by analysts at Beaufort Securities in a research note issued on Wednesday.
Shares of Eurasia Mining plc (EUA) traded up 16.667% during mid-day trading on Wednesday, reaching GBX 0.525. 19,366,652 shares of the company's stock were exchanged. Eurasia Mining plc has a 52-week low of GBX 0.38 and a 52-week high of GBX 1.30. The stock's 50-day moving average is GBX 0.48 and its 200-day moving average is GBX 0.58. The stock's market cap is GBX 7.93 million.
COPYRIGHT VIOLATION NOTICE: "Eurasia Mining plc (EUA) Rating Reiterated by Beaufort Securities" was originally reported by American Banking News and is the sole property of of American Banking News. If you are reading this news story on another publication, it was stolen and reposted in violation of United States & international copyright laws. The original version of this news story can be accessed at https://www.americanbankingnews.com/2017/05/31/eurasia-mining-plc-eua-rating-reiterated-by-beaufort-securities.html.
About Eurasia Mining plc
Eurasia Mining Plc (Eurasia) is a mineral exploration company. The principal activities of the Company and its subsidiaries are related to the exploration for and development of platinum group metals (the PGM), gold and other minerals in Russia. The Company is engaged in the development of two licenses, West Kytlim in the Central Urals and Monchetundra on the Kola Peninsula in Russia.
Receive News & Ratings for Eurasia Mining plc Daily - Enter your email address below to receive a concise daily summary of the latest news and analysts' ratings for Eurasia Mining plc and related companies with MarketBeat.com's FREE daily email newsletter.