Comstock Mining Inc (LODE) Sees Large Increase in Short Interest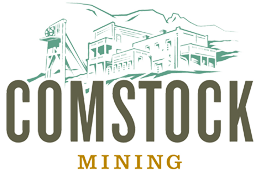 Comstock Mining Inc (NYSE:LODE) was the target of a large increase in short interest during the month of May. As of May 31st, there was short interest totalling 1,468,780 shares, an increase of 10.1% from the May 15th total of 1,333,830 shares. Based on an average daily volume of 399,942 shares, the short-interest ratio is currently 3.7 days. Approximately 1.1% of the shares of the company are short sold.
Shares of Comstock Mining (NYSE LODE) traded down 2.2190% during mid-day trading on Friday, hitting $0.1366. The company had a trading volume of 534,410 shares. The firm's market cap is $26.22 million. The firm's 50 day moving average is $0.18 and its 200-day moving average is $0.23. Comstock Mining has a 12-month low of $0.13 and a 12-month high of $0.47.
Comstock Mining (NYSE:LODE) last released its quarterly earnings data on Thursday, May 4th. The mining company reported ($0.01) earnings per share for the quarter. The firm had revenue of $0.02 million during the quarter. On average, equities analysts expect that Comstock Mining will post ($0.07) EPS for the current year.
TRADEMARK VIOLATION WARNING: This article was originally published by American Banking News and is the sole property of of American Banking News. If you are reading this article on another website, it was stolen and republished in violation of United States & international copyright law. The legal version of this article can be read at https://www.americanbankingnews.com/2017/06/09/comstock-mining-inc-lode-sees-large-increase-in-short-interest.html.
Comstock Mining Company Profile
Comstock Mining Inc is a gold and silver mining company. The Company holds properties in the Comstock and Silver City mining districts (collectively, the Comstock District). The Company's segments include mining and real estate. The mining segment consists of the Company's activities and expenditures associated with mining.
Receive News & Ratings for Comstock Mining Inc Daily - Enter your email address below to receive a concise daily summary of the latest news and analysts' ratings for Comstock Mining Inc and related companies with MarketBeat.com's FREE daily email newsletter.